Arts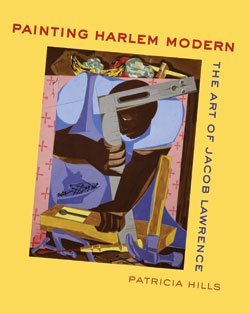 The renowned American figurative painter Jacob Lawrence (1917-2000) brought a Harlem-honed social consciousness and spare, Cubist-inflected style to works that were masterpieces of visual storytelling. One series of his narrative paintings is on display through December 15th in a small, powerful exhibition at Harvard University's W. E. B. Du Bois Institute for African and African American Research.
Entitled "Resistance and Revolution: The Toussaint L'Ouverture Prints of Jacob Lawrence," the exhibition presents 15 large silk-screen prints that Lawrence created between 1986 and 1997 from his 1937-38 series of paintings, "The Life of Toussaint L'Overture." Lawrence was just 20 when he painted the originals, 41 tempura panels that tell the story of the slave who rose to lead the liberation of Haiti.
Lawrence followed this first series with other chronicles of black struggles for social justice. Another project, which he painted from 1940 to 1941, was a 60-panel narrative of the African-American migration from the rural south to the urban north after World War I. The cycle earned him international fame at age 24 and brought an untold story to the forefront of the American imagination.
Raised in Harlem by his mother during the Depression, Lawrence took after-school art classes at the Utopia Children's Center, where he met his first mentor, the artist Charles Alston. He dropped out of high school at 16, and while working at a laundry and print shop, continued to study art with Alston at the WPA-sponsored Harlem Art Workshop. Its programs drew prominent figures of the Harlem Renaissance, including the writers Langston Hughes, Alain Locke, and Ralph Ellison as well as such artists as Archibald Motley, Loïs Mailou Jones, and Romare Bearden.
"It was like a museum without walls," Lawrence once told an interviewer. He also routinely walked the 60 blocks from his home to the Metropolitan Museum of Art and frequented the Harlem branch of the New York Public Library.
At first, Lawrence painted scenes of daily life in Harlem, rendering its hardships and vitality in the vivid palette that he saw in his home and neighborhood. Using poster paints that he could buy for 15 cents a jar, he applied flat, primary colors in boldly contrasting juxtapositions. "I didn't mix colors," Lawrence says in the video interview on display at the exhibition, filmed three weeks before his death. "I liked it pure as it was."
At age 19, he already had his signature pared-down style, which coupled a strong sense of design with spare, expressive lines. In the video, Lawrence says, "Why use three lines when one will do?"
Encouraged by his mentors, Lawrence turned to telling the stories of African-American heroes, starting with L'Ouverture. "No artist had yet undertaken such an ambitious project," says the exhibition curator, Patricia Hills, a professor of American art at Boston University and a 2006-2007 Du Bois Institute Fellow.
His models for visual storytelling, notes Hills, included a book of woodcut prints by Belgian-born artist Frans Masereel (1889-1972). His wordless novel, "The City" (1925) depicts everyday urban life in its violence and teeming energy.