MIT dialogue sheds light on race and mainstream media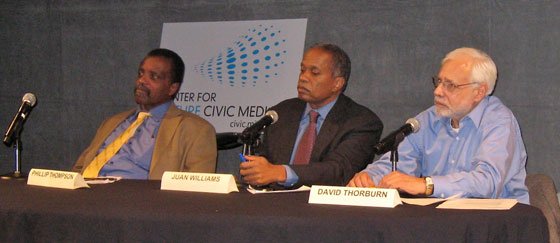 In a wide-ranging discussion on the mainstream media, noted journalist Juan Williams and MIT professor J. Phillip Thompson equally agreed that both are falling short in consistently providing important information to communities of color.
Last Thursday's event, about race and the media, attracted about 75 people and was sponsored by the MIT Communications Forum, the Center for Future Civic Media, and the Technology and Culture Forum. It was held in the Bartos Theater of MIT's campus and moderated by David Thorburn, Professor of Literature at MIT.
Through personal stories and professional insights, Williams, a senior correspondent for NPR and a political analyst for Fox News, offered a brief history of blacks and journalism in the United States. Growing up in New York in the 1960s, Williams said he pored over the sports pages of the city's newspapers, and noticed the absence of black reporters.
Back then, Williams said, black journalists only wrote for black newspapers.
But this changed during the late 1960s as the nation's racial turmoil shed light on the inadequacy of the mainstream media's coverage of racial issues. Large numbers of black reporters were quickly hired – but only to collect information for white writers.
Williams' professional ascent in mainstream journalism occurred during what he termed the "second wave of black journalists," which consisted of highly trained journalists who were able to compete with their white peers.
A graduate of Haverford College, Williams wrote for The Washington Post for twenty-five years before moving to national radio and television.
Although Williams' career symbolizes the progress achieved by blacks in the media over the last few decades, Williams did not hesitate to criticize today's news quality. Williams lamented that radio talk shows mirror the old divide between black and white newspapers, representing a "world that is almost completely segregated."
He also criticized "vanity publications" like Ebony and JET for presenting personality-driven news and lacking a "commitment to placing journalists in places where they can understand systemic issues causing distress to communities."
On those points, Thompson agreed. The MIT Professor of Urban Politics used specific examples and anecdotes to support his position.
 Citing the media frenzy over Henry Louis Gates Jr.'s arrest this summer, for instance, Thompson criticized the focus on celebrity. Calling "Gatesgate" "not a vital issue" to the black community, Thompson offered examples of real newsworthy stories, such as the rate of home foreclosures in the black community reaching seven times that in the white community; the lack of physicians in black communities that make health insurance inconsequential; and low voter turnouts for city elections that determine how millions of public dollars will be spent.
Williams offered a partial explanation. As profit-driven enterprises, Williams said, mainstream media has increasingly become outrageous, controversial, and provocative -- with personality, not issues, driving content.
In order to hold audiences, Williams said, media executives pander to the interests of specific groups, consequently moving the news to extreme positions, instead of engaging in the "common sharing of American life" that Williams thinks news ought to be.