Nonprofit's videos aim to help students explore world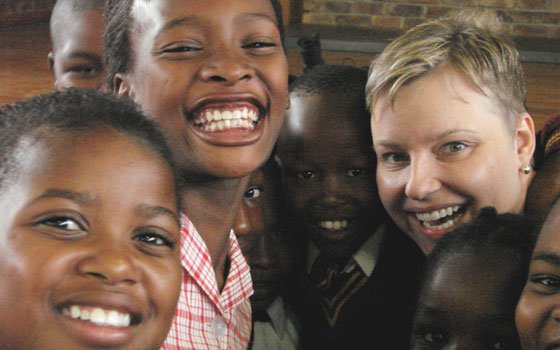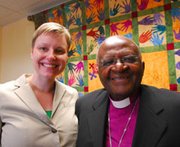 Few public school students have direct experiences that help them relate to faraway places like South Africa and Malaysia. Aiming to bridge the gap, the New York-based nonprofit ProjectExplorer.org develops short films in locations around the world that introduce global culture and history to students in classrooms from Boston to Jordan.
Launched in 2003 by director and founder Jenny Buccos, ProjectExplorer.org sends staff members to foreign locations, where they conduct a host of interviews with local luminaries. In the organization's South Africa series, the subjects include Archbishop Desmond Tutu, famed musician Sipho "Hotstix" Mabuse and Dr. John Kani, co-founder of South Africa's Apartheid Museum and a prominent playwright and actor.
In the videos, interviews are mixed in with footage from sites like the Apartheid Museum and other elements, like Mabuse's music. After filming is complete, the videos are uploaded onto the organization's Web site and offered free of charge to the public. In addition to the videos, the site showcases photos and blog entries for each global series.
"By using multiple media that reinforce the message and lesson, young learners can use the tools that help them learn best: reading, hearing, seeing or doing," said Buccos.
Prior to founding ProjectExplorer.org, Buccos, 33, held a position at an investment bank and worked in Tokyo and Hong Kong. She said that living in Asia nurtured her curiosity for exploring and learning about the world around her. Not only did she want to travel to other countries, Buccos said — she also wanted to share those experiences with others. ProjectExplorer.org allows her to do that.
So far, ProjectExplorer.org's materials have been used in schools in all 50 states and in more than 40 countries, including South Africa, Germany, Canada and Jordan.
Much more than mere tourist adventures abroad, the organization tries through its videos to foster a sense of interconnectedness and increased cross-cultural understanding.
"We strive to make the world shrink just a little faster by helping create the next generation of global citizens," Buccos said. "We hope that our materials show young learners how similar we all truly are, and that our differences are to be celebrated, not feared."
Last spring, social studies teacher Aaron Shelby turned to ProjectExplorer.org's series on South Africa to enhance his yearlong curricula on political movements. By studying the civil rights movement in the U.S. and South Africa's anti-apartheid movement, Shelby urged his students at the Urban Assembly School for Law and Justice, a public school in New York City, to critically examine the divergent strategies that citizens employ to achieve political change.
The series includes videos about the Apartheid Museum, which provides a historical overview of the system of legal and racial separation that dominated South Africa.
"The black people only became a citizen in 1994," Kani explains in one of the videos. "Our struggle was a struggle based on the land. … In this country, we fought for something that belonged to us."
Shelby integrated the videos into his lessons by first posing a question to his class, next watching a relevant video in the series, and then leading a discussion based on insights gleaned from the clip. Highlights for Shelby's students included being introduced to three of the country's 11 official languages: isiXhosa, Zulu and Afrikaans.