Arts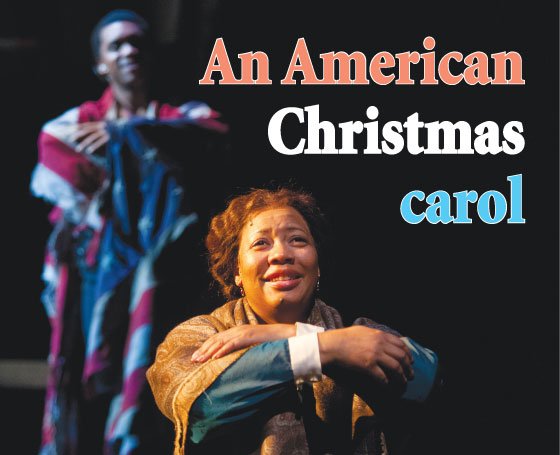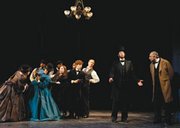 The Civil War and Christmas are laden with musical and story-telling traditions. Pulitzer Prize-winning playwright Paula Vogel has woven the two into a distinctly American holiday pageant, "A Civil War Christmas: An American Musical Celebration."
Directed by Jessica Thebus, the Huntington Theatre Company production of  "A Civil War Christmas" is a richly textured holiday spectacular.
The pageant unfolds in and around Washington, D.C. on a frigid December 25th, 1864. 
Four years into the Civil War, with victory in sight, the Union has just re-elected Abraham Lincoln as president.
Set in the heart of a sundered nation, Vogel's pageant celebrates friendship, love and community in a time of death, destruction and loss. The production connects the journey of the Magi with other quests guided by hope, including the flight of slaves to freedom via the Underground Railroad.
Twelve actors play 47 characters, from celebrated historic figures such as Abraham Lincoln (Ken Cheeseman), Ulysses S. Grant (Stephen Russell), and Robert E. Lee (Ed Hoopman) to lesser known individuals and fictional roles. The actors are also the production's narrators, and some sing or strum fiddles, banjos and guitars.
Arranged and orchestrated by Daryl Waters and directed by Andrew Resnick, the infectious music weaves diverse cultural threads in a stirring selection of spirituals, carols, marches and hymns.
What keeps this cornucopia of characters and stories moving with coherence and energy are the outstanding performances of the actors and musicians; the parallels among the various plots and their common themes of loss, love and hope; and scenes of sheer stage poetry that unite music, spectacle and speech to captivating effect.
Karen MacDonald gives a self-effacing rendering of the anguished Mary Todd Lincoln and Jacqui Parker is warmly regal as Elizabeth Keckley (1818 –1907), Mrs. Lincoln's modiste and confidante. A former slave turned dressmaker, she bought freedom for herself and her son George (DeLance Minefee), a Union volunteer who died in his first battle.
Mrs. Keckley is "our first lady", says her friend Walker Lewis (Jason Bowen), a personal aide to the president who is, like her, an esteemed figure in the capitol's African American community.
Uzo Aduba is Hannah, who is escaping slavery with her young daughter Jessa. Hyacinth Tauriac brings to the role (alternately performed by Alanna T. Logan) the same gravity and directness that made her so luminous as Raynell in the Huntington's recent production of "Fences." 
An expansive celebration of community, "Civil War Christmas" incorporates many local elements, including scenes of poet Henry Wadsworth Longfellow at his Cambridge home and references to "The Providence Journal" and Brown University, where Vogel taught writing for almost two decades.
Students from five area colleges and an 11-member children's ensemble participate in the production's supporting cast. More than 30 local choral groups take turns caroling before each performance. These ensembles include the Archdiocese of Boston Black Catholic Choir, the Boston Children's Chorus, and Stambandet, a Scandinavian ensemble.
The spare scenic design by Dan Ostling exposes the stage's brick walls and the ceiling's lighting grid, which resembles a field of stars. The sensitive lighting by T.J. Gerckens conjures characters in a variety of scenes—wandering abandoned city streets, crossing paths alongside the frozen Potomac, or partying inside the White House.