First-grade teacher trades in books for healthy fruit biz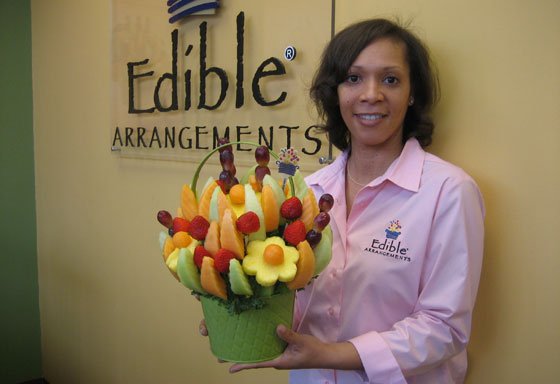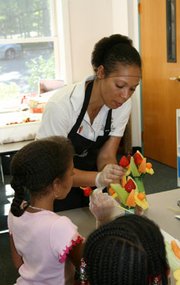 "Fruit has never said so much" is the slogan of Edible Arrangements, a national company that sells bouquets of fruit.
With products like "Simply Daisies," a vase of flower-shaped pineapples, and "Berry Chocolate Bouquet," an arrangement of chocolate-covered strawberries, cantaloupe, grapes, and heart-shaped pineapples, Edible Arrangements has created a healthy alternative to the usual gifts or table settings.
Toya Farrar opened Boston's first and only Edible Arrangements store in 2007, and since then has taken great pride in the product she sells to local residents.
Demonstrating clear satisfaction with her job as owner of the South Boston store, Farrar said when she first learned about the Edible Arrangements franchise, she thought, "it was beautiful, it was healthy, and it was delicious," a product she could "really believe in."
Before opening the store, Farrar had worked as a first-grade teacher in the Boston Public Schools for the previous ten years and sold real estate on the side. But she realized that her real dream was to start her own business.
Although Farrar had a graduate degree in education and a steady-paying teaching job, she explained, "I just felt like, if I didn't take a chance to do what I really wanted to do, then it just wouldn't happen. So it was just time for me to do it."
Farrar began researching business opportunities, and less than a week after learning about Edible Arrangements, decided to open her own franchise. Founded in Connecticut 10 years ago, the company has grown to over 900 locations around the country. She was particularly drawn to the company because it offered a healthy product.
"I didn't want to sell a burger or a donut," she said, "I wanted to really emphasize children and adults eating healthy again. A lot of our children today are overweight, and I think a lot of it is because of the foods we're eating — potato chips, candy and soda. This is a healthy alternative to those fast foods. And this is just as fast, and fun."
Edible Arrangements uses only high-quality fresh fruit for its bouquets. The fruit is shipped daily from California and Florida and is purchased through a "fresh approved" local vendor. The chocolate used for dipping is gourmet-quality. In addition to the elaborate fruit bouquets, Edible Arrangements also sells fruit salads.
While opening a private business after a decade of teaching may seem like a dramatic career change, Farrar said that many of her skills as a teacher have been useful in operating Edible Arrangements.
Farrar's store is neatly adorned with seasonal decorations — much like her old first-grade classroom. Celebrating holidays, decorating windows and bulletin boards and displaying student work are all skills that transferred from elementary school teaching to running Edible Arrangements, she said.
Her ability to interact with children is another skill that has assisted in the promotion of her store.
As a teacher Farrar would dress up as she read stories to her students. This year for Halloween she dressed up as a grape and talked to the children about fruit as they went trick-or-treating on Broadway St. "It's just hilarious," she said. "Interacting with the kids on that level comes from being in the classroom."