Dot girl vies for National Miss Pre-Teen Queen title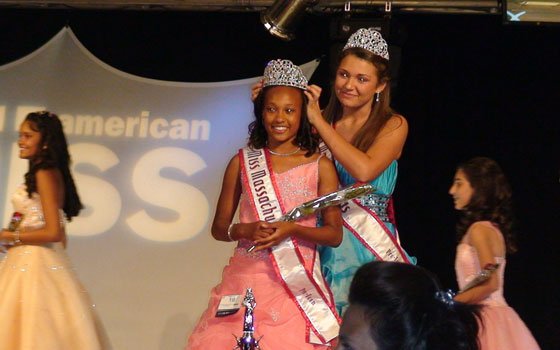 Kristen Fields is an accredited actress, a budding scientist, a giant-slaying swimmer, a humanitarian and an actual queen.
 Her resume is jam-packed with honors and awards, dating back three years ago when she was all of nine years old. During the Thanksgiving holiday, the Dorchester resident will attempt to add the title of National American Miss Pre-Teen Queen to that resume, when she represents Massachusetts at the national pageant in Anaheim, California.
Kristen competed in her first pageant in 2007, mere months after her interest was perked by a card in the mail from the National American Miss program. The 9-year-old asked her mother, Lindsa McIntyre, if she could enter.
McIntyre's response was less than enthusiastic. "Pageants are for white girls," McIntyre recalled telling her daughter. "You are a little girl of color, so I don't think that will work."
Kristen disagreed. "I think they are for everyone," she told her mother.
Kristen persisted, and eventually a reluctant McIntyre relented. Kristen entered and won the pageant advertised on the card, taking home the title of Junior Pre-Teen Miss Massachusetts. She went on to place third at the national pageant.
The two were thrilled with Kristen's success, and McIntyre's concerns about pageants were alleviated. In the rules and mission of the National American Miss system, "Formal Wear," "Personal Introduction" and "Interview" are each worth 30 percent of the score, while community service makes up the remaining 10 percent. Contestants are not allowed to wear makeup and the program focuses on developing the girls into leaders.
"The National American Miss system is worthy because it speaks to empowering girls," McIntyre said.
McIntyre said she is slowly but surely starting to see increased diversity in the pageants, and after seeing the positive impact they have had on Kristen, she has begun recruiting friends and family to give them a try.
McIntyre said the pageant experience has helped her daughter gain confidence, poise and interview skills, as well as giving her a chance to make friends her age and hang out with them in a safe environment. It is also a family affair. Kristen's father, James Fields, escorts her during introductions.
Kristen was one of approximately 65 competitors at the state competition in August, and was among the younger competitors in her age group. She said she had hoped for a top-10 finish.
"This win felt good," Kristen said. "I didn't think I would win."
Kristen said she felt particularly strong about her performance in the Personal Introduction, which she began with, "Aristotle once said, 'We are what we repeatedly do. Excellence, therefore, is not an act, but a habit.'"
Kristen is hoping what worked in Massachusetts will fare just as well on the national stage.
"We're not changing any of the material she used for state, just developing it more," McIntyre said.
Kristen said she will begin the major preparation for Nationals this month. In the meantime, she remains plenty busy. She is currently competing on the Boston Latin School swim team, as well as a highly selective USA swim team based out of the Roxbury YMCA. Once the school season is over she will return to the Marr-lin Swim Team at the Boys and Girls Clubs of Dorchester, which she has been competing with for the last four years.