On Mother's Day, calls for unity, responsibility, peace
Dan Devine | 5/13/2009, 6:12 a.m.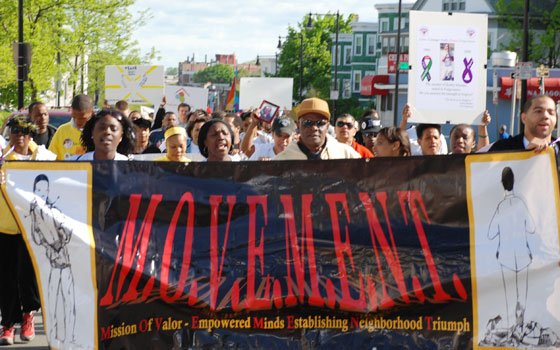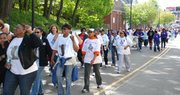 The tributes and memorials flooded the streets of Fields Corner on Sunday, the early morning sun shining like an interrogation room spotlight on messages born out of pain that, for many, remains too sharp to speak. Messages like "Violence Creates Incomplete Families" and "Give So I Won't Cry Anymore."
But as the harsh light softened, it also illuminated one phrase that would later reverberate across Dorchester's Town Field: "Peace is Possible."
The slogan and the hopeful sentiment behind it were repeated often by the hundreds who turned out to participate in Sunday's 13th Annual Mothers' Walk for Peace. The event is held each Mother's Day by the Louis D. Brown Peace Institute to honor the memories of those who have died and to voice unified opposition to the use of violence.
Roxbury resident Natasha Steele said she attends the walk because it's better than the alternative.
"If I wasn't here, I would be just sitting at home thinking about him, or sitting at the cemetery," she said.
Her son, Cedirick T. Steele, died in 2007, before reaching his 20th birthday. He was studying psychology at Bunker Hill Community College, and had made the dean's list before he was murdered. She said one of his professors used to speak effusively about Cedirick's ambition and his desire to learn.
Others, she said, spoke about his big smile.
"I like that," she said. "That people remember him smiling."
Sunday marked Natasha Steele's third year attending the peace walk. She said she draws strength from being able to walk with other people experiencing the same struggles, and feels the public display of unity truly can make a difference.
"Each step I take, I feel like we're getting a little closer to stopping this nonsense," she said.
Clementina Chéry is the prime mover behind the Mothers' Walk. In 1994, she co-founded the Louis D. Brown Peace Institute to honor her slain son. For 15 years, the organization has worked to help families victimized by violence by connecting them with people who have had to make the same difficult journey.
Through the institute's Survivor Outreach Services program, Chéry's staff reaches out to families within 48 hours after a murder — when Cedirick Steele was killed, Natasha Steele said, Chéry reached out within "two or three hours." They provide grieving and often unprepared families with information on topics like making funeral arrangements and locating social services. The institute also publishes a "Peace Curriculum" designed specifically for city students.
For her work, Chéry last year received an honorary doctorate from Regis College, as well as citations from Gov. Deval Patrick, the state Legislature and the Boston City Council at this year's walk.
So when the woman everyone calls Tina speaks, she does so with authority.
Addressing the crowd gathered at Town Field after Sunday's walk, an impassioned Chéry repeated: "It is not the KKK, it's not the white supremacists, it's not the slave traders — our children are pulling the trigger."
Asked later why she felt that point merited such emphasis, Chéry said, "Because our children are the ones killing each other. Ours are the ones going to [the state Department of Youth Services]. Ours are the ones who are 'known to the police.' We, at some point, have to have to say, 'These are our children.'"