NU hockey standout sets sights on higher goal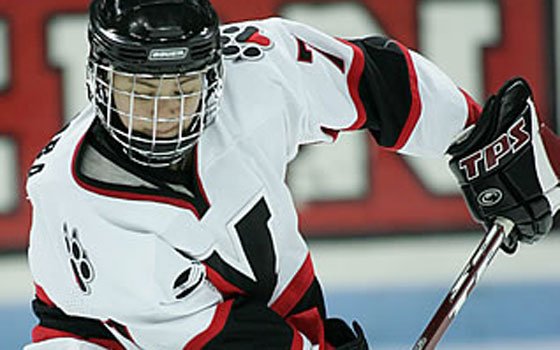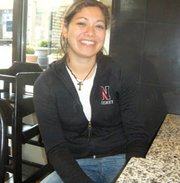 Missy Elumba hardly looks the part of a hockey player. She stands 5 feet 5 inches tall, with a petite build and a welcoming smile set against coffee-colored skin. Her chestnut brown hair falls to her neck, despite being pinned back with small butterfly clips. She even wears pink nail polish, for goodness' sake.
On the ice, though, the Northeastern University forward dials up the intensity.
"Hockey is fast and creative — it's different every time," said Elumba, who also wears a small metal stud in her right nostril and a small wood-carved cross hanging from a rope necklace.
She also plays clean, which sometimes makes her job difficult. As a "digger," Elumba is responsible for getting the puck out of the corners of the rink, and often finds herself working against other players in tight spots.
"I challenge myself to play hard, but fair," she explained. "I try to play without receiving any penalties."
The 23-year-old Elumba, whose full name is Melissa Grace, graduated from Northeastern this year with a degree in health sciences and was a four-year starter on the university's women's hockey team. This past season, in her final year, she set a career high in goals scored and tied a career high in assists.
"Missy is a blue-collar player," said Northeastern women's hockey coach Dave Flint. "She gets in and works hard."
In his first year as coach, Flint used Elumba on the Huskies' first, second and third lines, depending on the various matchups he saw on the ice. No matter what, she always did her job.
"She is the kind of kid you need because of her work ethic," Flint said. "Whatever I asked her to do, she did without batting an eye."
Elumba has also recently received recognition for her work off the ice. Last month, she received the Bank of New York Mellon Wealth Management Hockey Humanitarian Award, which is given annually to the player regarded as college hockey's finest citizen. She was also honored with the Jeanne Rowlands Award as Northeastern's top female senior scholar-athlete.
A native of Cottage Grove, Minn., Elumba is of mixed heritage. Her father is Filipino and Chinese with "a little Spanish," she says, while her mother is Irish and Swedish. Despite her ethnically diverse background, Elumba never felt her race was an issue growing up.
"I never felt like a minority," Elumba said. "I feel even less like one in Boston."
Coming from the suburbs, Elumba admits that it took her some time to get used to living and going to school in a city like Boston.
"It's different living in a city — people are different," she said.
Her parents were always supportive of her athletic career, getting her involved in softball, soccer and hockey at an early age. Her father, a project manager for Minnesota Mining and Management, and her mother, a nurse, cultivated an environment that allowed Elumba to try many different sports before choosing to focus on hockey in third grade.
After playing for five years on the girls' ice hockey team at Park High School in Cottage Grove, serving as captain for three years, Elumba came to Northeastern. As a freshman in the 2004-2005 season, she was the only person on the team from Minnesota.