Arts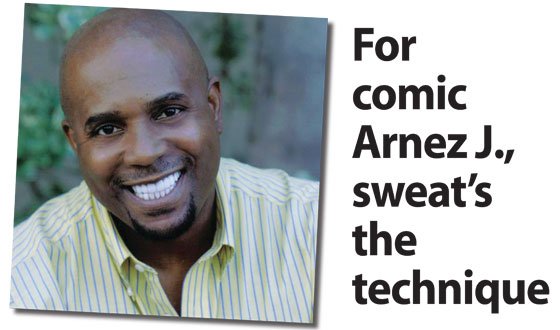 With summer fast approaching, many are looking forward to going to area amusement parks in search of thrills and excitement. The new Comedy Connection at the Wilbur Theatre aims to provide both this Friday night, when they introduce New England to the comedic rollercoaster ride called Arnez J.
A very physical comedian whose natural athleticism drew interest from the Philadelphia Phillies and Harlem Globetrotters in the past, Arnez J. is a stand-up veteran who has developed a reputation across the country as an act you don't want to miss. From humble beginnings as a Continental Airlines flight attendant who was encouraged by colleagues and passengers to give comedy a try, Arnez has carved out an impressive career. He has appeared on "Russell Simmons' Def Comedy Jam," "Comedy Central Presents" and Showtime's "Comedy Club Network," and hosted "BET's Comic View." You never know what you are going to see when Arnez performs, but you can be sure that it's going to be memorable.
The Banner recently caught up with Arnez just as he was getting in to his Atlanta home. One of the first things he talked about was how important it is for him to treat his fans as family.
I know this is your first time coming to Boston, but often, when talking to people in different parts of the county about live stand-up comedy, you'll hear them say, "Arnez J. is coming to town, I have got to go see his show."
You have to start building your family, and by that I mean your audience family. And you have to treat them like family, treat them well, and you have to respect them. Because if you don't respect your fans … you're nothing. And it will catch up to you. …
Because you have to realize, being in the entertainment business, [that] you were on the other side listening to someone else before you got into it. I was a fan because I was listening to entertainment [and] comedy or [watching] sitcoms … before I got into it. So I had to remember how I felt when I went to see somebody that I wanted to see, as far as being entertained by them. And when I became excited … man, let me tell you something, when I saw Bootsie Collins (laughs) — when I was real, real, real young — But when I saw Bootsie perform, I almost lost my mind.
And that's the same type of feeling that I want from my fans. I want them to feel like they've got to see me. And it's not being vain. It's that I appreciate it, and I feed off of that. … Every time you hit that stage, you should never have an excuse. [Even] if you're having a bad day, if you had a meeting that day that went bad — don't get up on that stage if you're not going to give 100 percent of what you got.
You don't just give 100 percent, you give 150 percent — I don't think I've seen a show or a clip of you where you haven't ended the show sweating, even in three-minute sets.