Classic writing guide celebrates 50th anniversary
Associated Press | 3/25/2009, 6:04 a.m.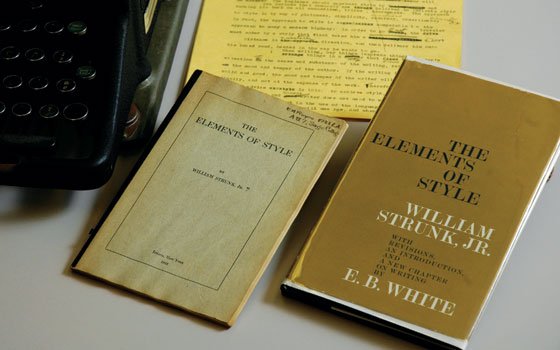 "Vigorous writing is concise. A sentence should contain no unnecessary words, a paragraph no unnecessary sentences, for the same reason that a drawing should have no unnecessary lines and a machine no unnecessary parts."

ITHACA, N.Y. — History's famous word collaborators include Gilbert and Sullivan, Lennon and McCartney, Woodward and Bernstein.
While those pairs were contemporaries, William Strunk Jr. and E.B. White worked four decades apart. Yet the little-known turn-of-the-century Cornell University English professor and his universally famous student produced a classic that has become one America's most influential and best-known guides on grammar and usage.
Strunk and White's "The Elements of Style" has sold more than 10 million copies since its initial publication in April 1959. Its present-day publisher, Longman Publishers, has put out a special black leather-bound, gold-embossed edition in tribute of the 50th anniversary.
"It's ubiquitous," said Elaine Engst, director of Cornell's division of rare and manuscript collections. "There have always been writing guides. But this is the one that left its mark.
"Part of that was White's fame, but the book also was inexpensive and accessible and has stayed true to Strunk's original focus on brevity and clarity," Engst said.
Strunk and White's success is the result of an "emphasis on plain style being preferable to more ornate kinds of writing. Simple rather than complex. Native rather than foreign. Active rather than passive. Verbal rather than nominal," said Dennis Baron, a professor of English and linguistics at the University of Illinois at Urbana-Champaign. Baron is the author of "Declining Grammar and Other Essays on the English Vocabulary" and "Guide to Home Language Repair."
Strunk, a native of Cincinnati, began teaching English at Cornell in 1899 after getting his doctorate there in 1896.
"He is remembered as being very concise, which meant his lectures tended to be very short. To fill time, he usually said everything three times," Engst said. Despite his rigorous attitude about writing, students described Strunk as friendly and funny.
In 1918, he self-published a writing guide for his students, which they could buy at the campus bookstore. Its main precept was "omit needless words."
"The little book" was 43 pages. It detailed eight elementary rules of usage, 10 elementary principles of composition and "a few matters of form," as well as containing a list of commonly misused words and expressions.
In 1920, Harcourt Brace took over publication. In 1936, Strunk joined with Cornell colleague Edward Tenney to produce "The Elements of Practice and Composition," a more elaborate version of Strunk's original writing guide that included exercises as well as rules.
While it would have been widely available, there's no evidence that Strunk's manual found any audience beyond the Cornell campus, Engst said. Even there, it fell into disuse after Strunk retired in 1937. He died in 1946.
Elwyn Brooks White took English with Strunk in 1919.
He had long since lost his book — though he remained faithful to many of Strunk's writing rules — as he rose to become one of America's greatest essayists with The New Yorker magazine and immortalized himself as a children's author with "Charlotte's Web" and "Stuart Little."