takes hip-hop to church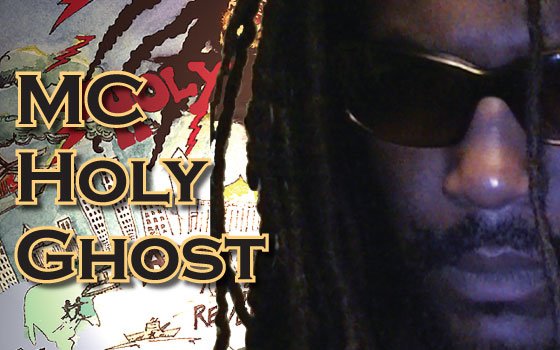 takes hip-hop to church
Paul Breeden feels the touch of the divine in every bar he spits, in every stab of a scratch needle on wax, in every boom-bap bass burst. They always say God moves in mysterious ways, but there's no mystery here: For him, hip-hop is church.
Under the moniker of MC Holy Ghost, Breeden has spent the last 20 years throwing down lyrics inspired, he said, by a higher being.
"I don't call myself Holy Ghost; God gave me that name," he said. "We all have the Holy Ghost in us, and through that, I believe no one can diss me."
Spiritual and political awareness are part of Breeden's family heritage. He is the son of the Rev. James P. Breeden and his wife, Jeanne Breeden, both longtime civil rights activists who played major roles in Boston's school desegregation movement of the 1960s and '70s. Ever since he was a toddler, the younger Breeden was exposed to activism — and music.
"I remember giving him a drum when he was a kid, and he just banged away," said Rev. Breeden. "He has always embraced his musical side, and I have always supported that."
When the Breeden family moved to New Hampshire in the late 1980s, MC Holy Ghost began to spread his wings. There, he hooked up with his eventual rap partner, Richard Lurvey, a.k.a. MastaSwitch, and the two began performing at frat parties at Dartmouth College. The duo later recorded a demo titled "Shady Cops" with producers from a Detroit-based record label, and have spent recent years performing in the local underground rap scene.
Breeden said his outlook on hip-hop, among other things, changed after moving to Boston in 1993 and meeting with John Mathis, a monk from the Society of Saint John the Evangelist in Cambridge. The encounter spurred the young artist to look into his spirit and reevaluate his life.
"I'm not really into battling people anymore," Breeden said. "I'm into God, and that is where I get my influence."
That influence is apparent in Breeden's music. In 1996, he teamed up with members of the reggae band John Brown's Body to release the scripturally named "Apocalypse: The Book of Revelation." Last fall — after a 12-year period that saw him produce records for acts like Lamar, Freakin' Staties and Casablanca, and manage bands for now-defunct label Seven Spirit Records — Breeden and his partner Masta-Switch released the follow-up "Stolen Bootleg Tracks," a compilation of what he calls conscious, political and spiritual prose.
One of the songs on the latest album, "Shady Cops Part II," focuses on what Breeden said was a "walking while black with dreadlocks" experience he went through a few years back, when he said he was assaulted by police on a Los Angeles sidewalk.
Breeden referenced the song, and the incident from which it stemmed, to illustrate the difference between old-school hip-hop and today's mainstream scene, in which the biggest hits often serve as odes to rampant materialism. He said the music has left its roots in the struggle for social justice behind — and left a bad taste in his mouth in the process.