Brazilian teen with rare lung cancer beats the odds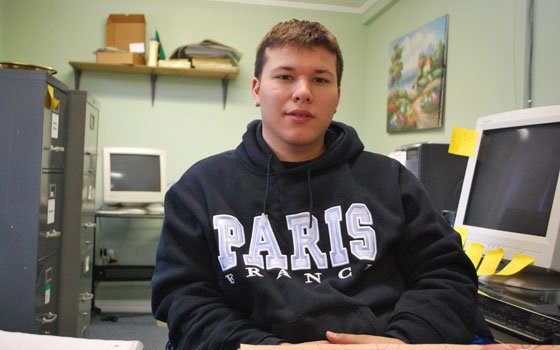 Samuel Gonçalves is your typical soccer aficionado. Born in Brazil in a family of three brothers, several first-league clubs in the soccer-loving country were interested in the young teen for a possible spot on their teams.
But then a religious mission brought his father, a Methodist pastor, to Saugus, Mass., to establish a Portuguese-speaking congregation.
Sam first stepped into Logan International Airport at age 13, eager to keep his soccer dream alive. His family settled down in Medford, outside of Boston.
His sporting skills earned him a mid-fielder position on the Medford High School soccer team, which then became a top-ranking contender in the state. Medford Mayor Michael J. McGlynn honored the promising player with a key to the city.
At 18, and at the peak of his physical form, he had two options: follow the footsteps of his older brother, who was captain of the University of Massachusetts-Boston soccer team, or work for a while before embarking into college life. Sam chose the latter.
He worked 80 hours per week, splitting time between one gig in the kitchen of a restaurant and another as a garage attendant at the Lahey Clinic in Burlington, Mass.
On top of the hectic routine, Sam was a frequent face at the gym, as he kept himself in shape for the soccer field.
During that hectic period, Sam started to feel unexplainable chest pain.
"It would come as sudden[ly] as it would disappear, sometimes with a two-week period in between," Sam told EthnicNEWz.org.
One morning, the chest pressure was unbearable. His primary care physician prescribed medicine for pneumonia. But it was the surprising results of a chest X-ray that brought Sam to Massachusetts General Hospital (MGH) in Boston.
"I was filling [out] a form and the first question [was]: 'What is the reason for your visit today?' The lobby attendant had answered it for me," said Sam.
Her answer, "lung tumor," shocked him. Sam was diagnosed with a lung tumor — known to his doctors as a teratoma with malign transformation to sarcoma — larger than a tennis ball. What followed added the Brazilian athlete to the annals of world medicine, with a type of cancer so rare that only 20 known cases of it have occurred worldwide in the last 50 years.
"Sam had a teratoma with malign transformation to sarcoma, and it covered most of the left side of his chest," said Edwin Choy, a medical oncologist, or cancer specialist, at MGH, who said he had never seen such a case.
Two days later, Sam started chemotherapy.
"As young and healthy as he was, it afforded us to [the ability to] be very aggressive in fighting the cancer," said Choy.
The chemotherapy treatment was painful and complex. The goal of the treatment was to reduce the size of the tumor to prepare Sam for major surgery.
He was scheduled for four cycles of chemotherapy over a period of more than two months. Each cycle consisted of one week of daily treatment followed by 15 chemo-free days.