Olympic great Moses gets honorary UMass degree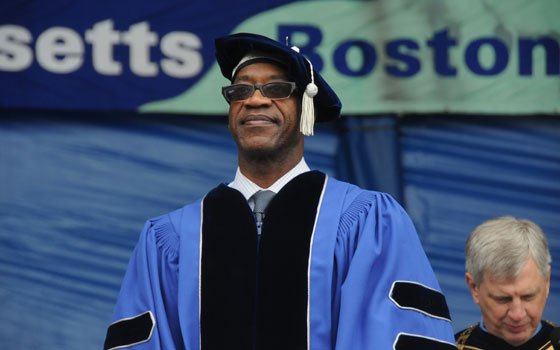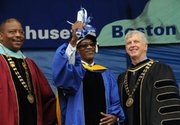 Two-time Olympic gold medalist Edwin Moses prepares to receive his honorary doctor of science degree at the University of Massachusetts-Boston's 41st commencement, held Friday, May 29, 2009. (Photo courtesy of Harry Brett)
The University of Massachusetts-Boston awarded legendary Olympic track star and noted physicist Edwin Moses with an honorary doctor of science degree at its 41st commencement ceremony last Friday.
According to UMass-Boston Chancellor J. Keith Motley, the degree recognized Moses' achievements in competition as well as his work off the track, including his pioneering role in the fight for drug-free sports, motivational speaking engagements and use of athletics as a means of creating social change around the world.
"[Moses] is a role model for so many people as Olympic royalty and as an African American man," Motley said.
UMass-Boston Athletic Director Charlie Titus said he nominated Moses for an honorary degree based on his uniquely well-rounded body of work.
"His accomplishments, both in the classroom and on the athletic field, speak volumes," Titus said. "Once the voters read his resume, it was a no-brainer."
Moses rose to international prominence by winning gold medals in the 400-meter hurdles at the 1976 and 1984 Summer Olympics, and a bronze medal in 1988. (The United States led a 62-country boycott of the 1980 Olympic Games in Moscow as a protest against the Soviet Union's war in Afghanistan.) He won 122 consecutive races between 1977 and 1987, setting track and field records that stood for many years. In 1994, he was inducted into the U.S. Track and Field Hall of Fame.
The future gold medalist's passion for running, however, did not develop until college.
Moses played many different sports in high school, including track, but was never focused on any sport in particular. When he graduated from high school, he enrolled at Morehouse College in Atlanta on an academic scholarship.
"I wasn't good enough to be recruited after high school," Moses said.
While at Morehouse, Moses became serious about track. As he explained, the academic environment that the historically black college fostered gave him the opportunity to develop his natural talent for running.
But because Morehouse did not have track facilities, Moses and his teammates had to find alternative places to train.
"We used to jump fences to find places to practice," recalls Moses.
After ending his career as a professional runner, Moses turned his attention to advocating for drug-free sports and motivating others to achieve their dreams through motivational speaking engagements. Since 2000, Moses has served as chairman of the Laureus World Sports Academy, which aims to increase participation in sports worldwide at all levels, while also promoting the use of sports as a tool for effecting societal change.
Moses recalled being 13 years old in 1968 and watching Tommie Smith and John Carlos in Mexico City shock the world by bowing their heads and holding their black-gloved fists in the air during the playing of the "Star Spangled Banner." That "Black Power salute" remains one of the lasting images of the era.