American heritage on display at the DeCordova Museum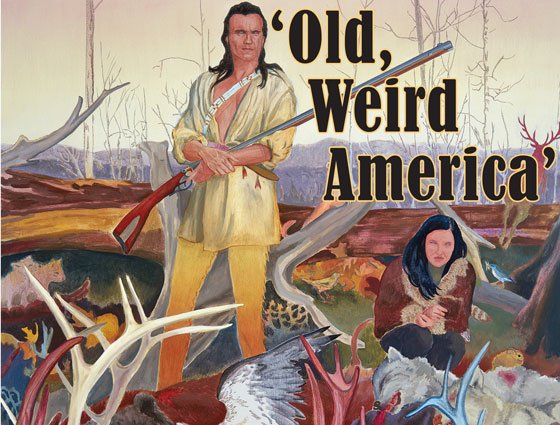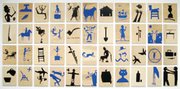 American heritage on display at the DeCordova Museum
Just in time for the Fourth of July, a traveling vaudeville exhibition of our nation's psyche rolled into the DeCordova Museum and Sculpture Park in Lincoln.
Fresh from its debut at the Contemporary Arts Museum Houston, whose senior curator, Toby Kamps, organized this exhibition, "The Old, Weird America: Folk Themes in Contemporary Art" presents contemporary works by 18 U.S. artists who are excavating fresh truths, old ghosts and abiding mysteries out of our nation's heritage of memories and myths.
On view until Sept. 7, the exhibition borrows the title and theme (with permission) of a 1997 book by cultural critic Greil Marcus, "The Old, Weird America: The World of Bob Dylan's Basement Tapes," which explores how Dylan rooted his music in old blues and folk songs.
More a panorama than a melting pot, the show presents artists with a mix of perspectives, including urban, gay, western, black, Hispanic, Native American and Appalachian. Whatever their preoccupations, they share an interest in what is missing or lost in our national narrative and reviving a past that is not even past — including the unfinished business of the Civil War. Many of the artists employ an art-making process that evokes America's past in its attention to handiwork and traditional materials.
A cluster of installations turns the museum's cavernous main gallery into a kind of carnival midway.
Allison Smith displays a row of life-sized dolls dressed as Civil War soldiers. Smith's seven handmade figures, which resemble her, wear costumes she constructs out of 19th-century materials, including ceramic, linen, cotton and wool. Openly lesbian, Smith finds in the costumes of other eras a way to explore issues of identity and the experience of living outside the mainstream.
Sam Durant's "Pilgrims and Indians, Planting and Reaping, Learning and Teaching" (2006) restages two dioramas that he purchased from the defunct Plymouth National Wax Museum. Mounted on a rotating platform, they literally tell two sides of the story.
One shows the traditional, feel-good scene described in the title. As the platform turns, another diorama depicts Captain Myles Standish slaying a Pequot Indian, an event that precipitated a bloody battle and its victory party — the Jamestown Colony's first Thanksgiving in 1621.
A sprawling stage set of an installation by Margaret Kilgallen (1967-2001), "Main Drag" (2001) portrays a seedy neighborhood populated by panhandlers, surfer girls and woman-owned businesses — a car wash, bake shop and Internet café. Combining the bold graphics of hand-lettered signs and cartoon images of female figures, her funky structure celebrates the do-it-yourself ingenuity of its scrappy occupants.
Cynthia Norton's enigmatic "Dancing Squared" (2004) is a kinetic sculpture that suspends four identical square-dance dresses from a four-armed frame. Each is a crinoline-lined, eyelet-trimmed confection of red-and-white square patchwork. Every five minutes, the dresses spring to life, whirring in a circle while the disco ball crowning the frame scatters spots of light on the walls. As they spin, the dancing dresses evoke the mystical, ecstatic precision of whirling dervishes or Shakers.