Coming soon to Dot: Chic men's clothing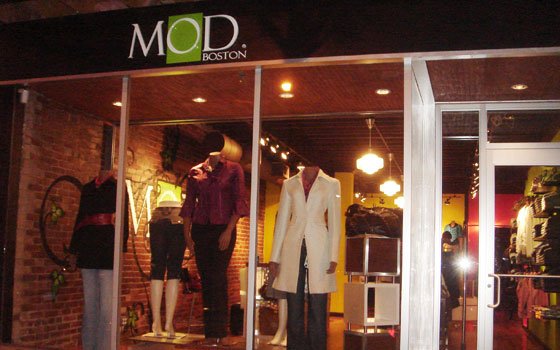 "I'm hoping that opening the men's store will give people the perception that the economy's not that bad, that people are still doing things and they can be a part of it," he added. "I'm not crying. I have faith in what I do. I'm very confident in my investments and I think my customers get that."
MOD Boston will launch another new feature to keep Boston belles on their toes — a Web site where customers can register to shop from the comfort of their own homes. The site, which Targete said will also be up and running Jan. 15, will feature everything available in the women's store and more. Men's clothing will not be available for purchase online yet.
"It made sense for MOD to go online, because our customers were already looking to find out if MOD was online," Targete said. "If you do your homework, you realize online shopping is a growing industry, and the only thing that isn't depreciating much in sales right now. Any businessman that's focused on being successful is going to follow the trend."
MOD is careful to keep abreast of fashion trends as well. Store manager Shantae Romain says the store receives new merchandise weekly, primarily from private labels based in New York and Los Angeles, and more from Chicago and Atlanta.
MOD tends to carry only a few of each item, usually in different sizes, to ensure that they offer shoppers one-of-a-kind finds.
"The window's always changing because we've always got something new coming in," Romain said. "Boutique sales are usually slower than those of bigger, more established stores like HandM, but things sell pretty fast in here."
Romain said customers appreciate MOD's wide range of sizes as well. The store carries brands like PZI, which specializes in jeans for full-figured women.
"A lot of women in our area come in here looking for plus-sized things," Romain said. "MOD is all about trend, color, contrast and vibrant, fashionable things. We don't limit ourselves to one size or one stereotype of woman, we cater to everybody."
Romain has been working at MOD Boston since 2007, when she started as an unpaid intern. From there, she advanced to sales associate and now manager.
But she is more than just a manager — she is the tactful-but-trusty girlfriend that lone shoppers wish they had along to help pick out the right size; the hair stylist who knows the perfect updo to spice up that little black dress; the accessorizer who can pair earrings and wildly patterned purses with her eyes closed.
"MOD is all about customer service," Romain said. "We know our customers would have no problem finding what they want in a Newbury Street store, so we always try to prove to them that's it's worth coming here instead because we have what they like. It's working; we always hear customers saying how MOD is so innovative and revolutionary for this community."
Targete chose to open MOD Boston in Dorchester in part because he had empty space available in the store's Washington Street building, which he had purchased as a real estate investment six years prior. Since he was growing tired of real estate, he decided to make a foray into fashion.