Turner goes back on the offensive as support mounts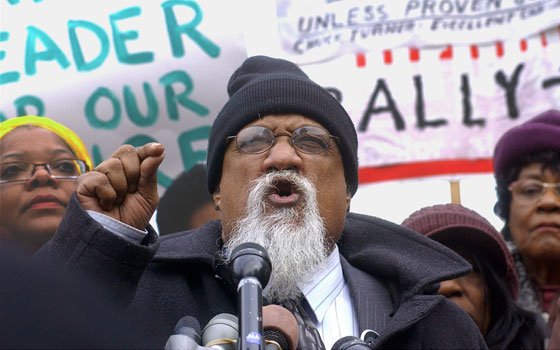 City Councilor Chuck Turner fired off the latest salvo in the dramatic effort to rescue his reputation on Monday, tying his prosecution to what he termed "the judicial atrocities of the Bush administration" and asking his supporters to petition President Barack Obama to drop the federal charges against him.
"We move beyond the first phase of my Campaign for Truth, Light and Justice by focusing national and international attention not just on my arrest and indictment but also on the eight years of corrupt practices of President Bush's Department of Injustice," Turner wrote in an e-mail to supporters.
In the e-mail, sent just after 8 a.m. on Monday, the District 7 city councilor called for the president and newly confirmed U.S. Attorney General Eric Holder to drop the "fraudulent" charges of bribery and conspiracy that have been filed against him and to examine whether the investigation against him had racial or political motivations.
Turner also asked supporters to sign an online petition created by the activist International Action Center, founded by former U.S. Attorney General and Turner supporter Ramsey Clark. Addressed to Obama and Holder, the petition requests that in addition to Turner's own case, the attorney general also review the cases of all public officials tried during the Bush administration "to determine which ones should have new trials because of political and/or racial motivation." The petition also asks Holder to "initiate legal action against those [state] Attorney Generals who set up politically and/or racially motivated indictments and prosecutions."
In addition to Obama and Holder, electronic carbon copies of the petition are apparently being sent to a wide variety of parties, including local and national news outlets, civil rights organizations, the Congressional Black Caucus, Gov. Deval Patrick and even U.N. Secretary-General Ban Ki-moon.
Finally, Turner called for legislation "to end collusion between prosecutors and media that destroys the opportunity for a fair trial by distributing governmental allegation as evidence before any arraignments, indictments or trials have taken place."
Turner also used the letter to call into question the motivations of U.S. Attorney Michael J. Sullivan and Assistant U.S. Attorney Suzanne Sullivan, who are not related. The U.S. attorney's office keyed the investigation that led to Turner's arrest and subsequent charges.
"We believe that this petition drive is taking place at an excellent time given the focus on corruption in the Justice Department locally and nationally," Turner wrote.
According to published reports, U.S. Chief District Court Judge Mark L. Wolf rebuked Suzanne Sullivan for failing to disclose evidence that may have helped clear a Mattapan man who is awaiting trial on gun charges of any wrongdoing in his case. The judge called the "egregious failure" to reveal the evidence an extension of "a dismal history of intentional and inadvertent violations," citing at least nine major cases in which similar instances of withholding evidence took place under the watch of Michael Sullivan and his predecessors as U.S. attorney for the District of Massachusetts.
In an interview with the Banner on Monday after sending the letter to his supporters, Turner said, "Here's a federal judge saying that this U.S. prosecutor lied in a case he was involved in, but other prosecutors under [Michael] Sullivan's jurisdiction have lied and concealed evidence that would have helped the defendant prove his innocence."