Chelsea center combines medical and legal help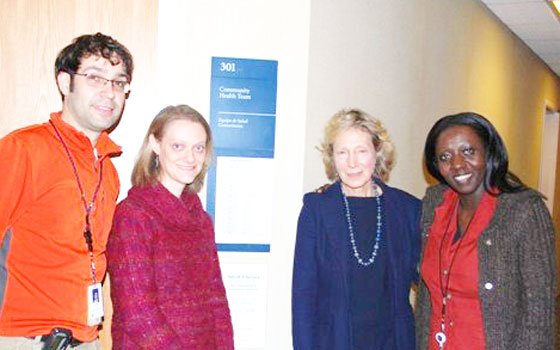 In the heart of Chelsea's Latino community, a health center stands out for its social approach to health services.
At MGH Chelsea HealthCare Center, the Legal Initiatives for Kids (LINK) program combines health services with legal advocacy. The two-pronged approach is based on the idea that medicine can't always do the job alone: When treating an asthmatic child who lives in a mold-infested house, for example, improving the landlord-tenant relationship can be just as important as prescribing a chest expectorant.
Children in low-income families have access to an array of services at LINK, ranging from counseling for disabilities to support in dealing with public housing and eviction hearings.
Laura Maslow-Armand, a member of the Lawyers Committee for Civil Rights, is the sole attorney at the health center, which she visits once a week. Despite her limited availability, LINK has helped more than 200 patient families since the program started in 2003.
Latinos made up 48 percent of Chelsea's population in the 2000 U.S. Census — more recent estimates indicate that share may have risen by as much as 10 percentage points — and they benefit a lot from LINK, according to Maslow-Armand.
Recently, though, the city has received a vast influx of African and Middle Eastern refugees, who also have started to take advantage of the program's offerings.
"We support a lot of immigrant families here. But the complications of some stories retard the resolving of problems," said Maslow-Armand.
"Most of [the] refugee families come intact. It's very rare to see an African family where the breadwinner is a single mother. That's why we have more and faster results for the refugee families," she added.
As of last year, 40 families had been offered public housing units through LINK — 19 of them were from Somalia. Eight were Latino, five hailed from Afghanistan, three were of Sudanese origin, two came from Iraq and one came from Congo. Two were made up of U.S. citizens.
Because all patients are referred by doctors, LINK doesn't offer emergency treatment. A screening process picks the most complicated cases.
The lines between medical and humanitarian services are often blurred.
"In October of 2007, we attended [to] a family of refugees from Burundi. The father was 72, the mother [was] blind, and one of the daughters had cerebral palsy," said Chantal Kayitesi, an African nurse whose knowledge of the Kirundi language is crucial for the program.
"Can you imagine somebody living in refugee camps for over 30 years? The daughter with cerebral palsy had always been in bed; now she got a wheelchair and is much better," she said. "This family is blessed for having come to the U.S."
Kayitesi also explained that although the family's granddaughter was already seeing a pediatrician, the adult members benefited from having continuous access to a primary care physician.
Given its commitment to supporting low-income families, the LINK program could not be better placed.
According to a 2006 report released by the state attorney general's office, 43 percent of Chelsea residents lived at or below 200 percent of the federal poverty line, earning no more than $36,200 per year for a family of four, and 62 percent are ethnic minorities. Also, nearly 40 percent of children under the age of 18 in Chelsea were living below the poverty line of $18,100 per year for a family of four.