Christine Schonhart
12/28/2009, 8:42 a.m.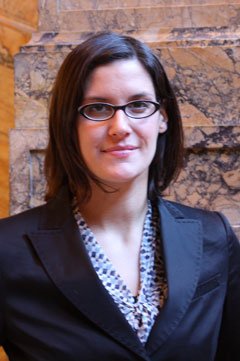 Christine Schonhart
Christine Schonhart has been appointed Neighborhood Services Manager at the Boston Public Library. For nearly a year, Ms. Schonhart has been Acting Neighborhood Services Manager where she has overseen the opening of the new Mattapan and Grove Hall branches, the renovation of the Brighton branch, and has been leading the BPL's current strategic planning process.
"This is a genuinely important role at the Boston Public Library that touches each of our locations throughout the City," said Amy E. Ryan, President of the Boston Public Library.
Ms. Schonhart brings over ten years of experience and a wide variety of skills to this position. Prior to acting in this position, she was the Assistant Neighborhood Services Manager, a reference librarian in the General Reference Department and a Children's Librarian at the Honan-Allston branch. In addition, she has worked in several branches of the New York Public Library as well as at the University of Minnesota and the University of Buffalo.
"When we say that books are just the beginning at the Boston Public Library, we mean it," said Christine Schonhart. "Neighborhood libraries in Boston are the heart of the community. And the more our branches reflect the needs of the people who use them, the better the BPL will be. I am honored to be in a role where I can help make this happen."