Family pride brings joy to holiday season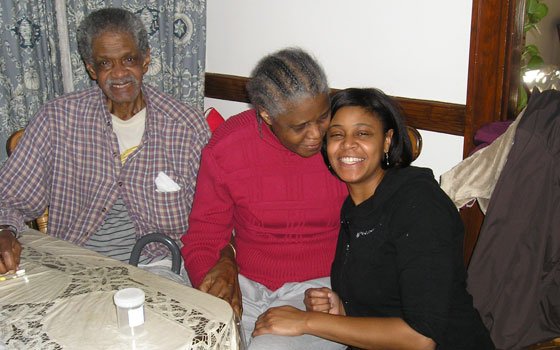 Mary Osborne, 72, was always an active person, a busy mother of four who worked for more than 30 years as a dietary assistant at Children's Hospital. In her spare time, her daughter Bernice recalls, she enjoyed taking long walks through their Dorchester neighborhood.
One day, she went for a walk and didn't return. Her family scoured the neighborhood, finally finding her just blocks from her home on Ashmont Street. She said she had gotten lost and couldn't find her way back.
Then it happened again, in the pouring rain. A grandson found her on Morrissey Boulevard, standing in the traffic island, lost. Eventually her doctor would diagnose Mary Osborne with Alzheimer's disease, the most common form of dementia. Alzheimer's is a progressive and incurable brain disease that causes memory loss, impairs intellectual ability, and can cause changes in personality and behavior.
Seven years later, Bernice, 39, and her sister Brenda, 45, now work only part-time and have arranged their schedules so one of them is always home at the triple-decker they share with Mary and their father, John, 78, who has a chronic lung disease. One night a week, brothers Leroy and Leslie stay with their parents to give the sisters an evening off.  
The Osbornes have joined the growing number of people providing home care for a loved one with Alzheimer's. According to the Alzheimer's Association, more than 5 million Americans have been diagnosed with the disease, and about 70 percent are cared for in their homes by a family member, usually a spouse or an adult son or daughter.
Keeping an ailing family member at home is demanding under any circumstances, but holiday celebrations bring special challenges beyond the day-to-day responsibilities of a family caregiver. Breaks in routine and unfamiliar environments can be disorienting for people with Alzheimer's, and family members who see an older relative only once or twice a year may not realize how the disease has progressed.
For the Osborne family, a typical holiday dinner can include as many as 35 people from four generations, with plenty of food and conversation. Such a gathering can be difficult for Mary, who gets agitated in crowds, and frustrating for her grandchildren, who want to interact with her the way they once did and no longer can.
Lindsay Brennan, a licensed social worker and manager of the 24-hour helpline run by the Massachusetts/New Hampshire chapter of the Alzheimer's Association, said it's important for families to adjust expectations and be flexible.
"If grandma is the person who's experiencing the disease," Brennan said, "and she always hosted the Christmas Eve party, maybe one of her grandchildren can host the party but someone can go over and help her make her famous pies the day before. So she still feels like she has a role there and she's still contributing."
It can help to have smaller gatherings, or to have a smaller room where the family member with Alzheimer's can visit with one or two family members at a time, and to plan events earlier in the day, when people with dementia tend to be most alert. Since older memories tend to remain with an Alzheimer's patient longer, it's better to reminisce about old times than to ask about recent events.