Coakley wins senate primary in a landslide
Associated Press | 12/9/2009, 7:33 a.m.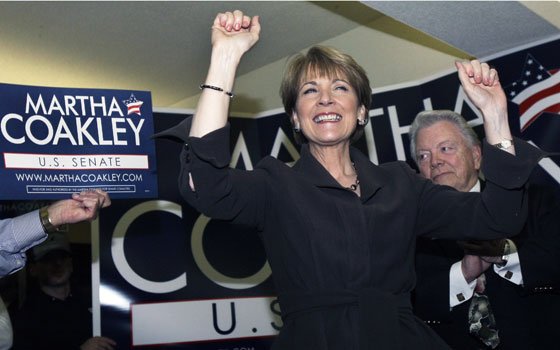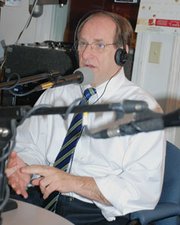 State Attorney General Martha Coakley withstood a dismal turnout and became the first woman elected from Massachusetts to the U.S. Senate seat once held by John Quincy Adams, Daniel Webster and both John and Ted Kennedy.
Drawing from the backing of female lawmakers and activists, from state Senate President Therese Murray to Ms. magazine founder Gloria Steinem to the pro-abortion rights group EMILY's List  -- and a last minute endorsement from former President Bill Clinton – Coakley, 56, earned a decisive victory over three democratic opponents to replace the seat left vacant by the death of Ted Kennedy.
He died of brain cancer in late August at age 77 after holding his seat since 1962. Coakley will face off in a general election on Jan. 19 against Republican primary winner state Sen. Scott Brown who beat Jack Robinson, the only African American to enter the campaign.  
Brown is a veteran legislator and lieutenant colonel in the Army National Guard who's also gained local notoriety as a former Cosmopolitan centerfold model and the father of an "American Idol" contestant. He earned 78 percent of the vote, with 1,543 of 2,168 precincts reporting.
Coakley earned 47 percent of the vote, ahead of Rep. Michael Capuano with 28 percent, City Year co-founder Alan Khazei with 13 percent and Boston Celtics co-owner Stephen Pagliuca — who spent millions of his own money on the campaign — with 12 percent.
The campaign to fill the seat was the first being run statewide under a special election law created in 2004.
At the time, Democrats who controlled the Legislature feared then-Gov. Mitt Romney might appoint a fellow Republican if Sen. John Kerry was elected president. At Kennedy's urging, they changed state law to replace the governor's power to fill vacancies with a special election campaign between 145 days and 160 days of a House or Senate vacancy.
The law has been invoked only one other time: In 2007, then-Rep. Martin Meehan resigned to become chancellor of UMass-Lowell. Niki Tsongas filled his seat after a special election in the 5th Congressional District.
The law was again tweaked this summer, again at Kennedy's urging. In deathbed letters to Gov. Deval Patrick and the leaders of the House and Senate, he asked that they tweak the law to allow the governor to fill a Senate vacancy while the special election campaign is being held.
Patrick said he would not appoint anyone who would be a candidate in the race, and he ended up tapping a longtime Kennedy confidant, former Democratic National Committee Chairman Paul G. Kirk Jr., for the interim appointment.
But the low voter turnout was as much of the story as Coakley's historic primary win. Secretary of State William Galvin had predicted turnout in the 10 percent to 25 percent range, and at mid-afternoon, the forecast was on target.
Turnout in Boston was just under 10 percent, despite clear — if chilly — weather. Galvin said he was receiving similar reports from other cities such as Lowell, Pittsfield, Springfield and Holyoke.