Classroom, Chapel and Cafeteria: A Holistic Theological Experience
12/9/2009, 9:36 a.m.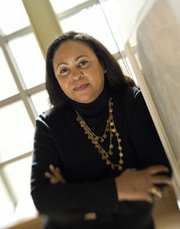 (Article provided by advertiser for a special Career Advertorial Section in the Banner this week)

Walk into the cafeteria at noon on a Wednesday at Andover Newton Theological School, in Newton Centre, and the energy is clearly palpable.  At one table in the corner are members of the Baptist Fellowship as they plan worship for the following week.  At another are members of  Journeys on the Hill,  an interfaith group made up of students from Andover Newton and the Rabbinical School at neighboring Hebrew College.  At still another table are students with a variety of books that all have "New Testament" in their titles. Their heads are lowered and the animated back-and-forth conversation between them suggests a mid-term exam is approaching.
While the students, faculty and staff sitting at some of the tables in this lunch room are there to discuss or study specific topics for worship or class, other tables are occupied by students looking to bond over a quick bite in between their morning class and afternoon chapel. All the while, professors are arriving and weaving throughout the space, offering follow-up on questions from class and checking in on their advisees.
The buzz is electric.  People are engaged with each other.  Certainly there is an economic crunch these days –­— even Harvard University feels it -— and congregations in New England have slowly been shrinking in attendance and endowments, but this barely seems to register with the students in this room who are studying to enter into one form of ministry or another.
Some suggest it is the bubble of "The Hill," where Andover Newton is perched  overlooking Newton on one side and Boston on the other.  "Faith Hill" is home to both Andover Newton, the oldest graduate school of theology in the United States, and Hebrew College, which houses both a Rabbinical School and a cantorial program.  The dialogue between the schools has become cutting edge, as exemplified in a Lilly Endowment grant offered to the Center for Interreligious and Communal Leadership Education (CIRCLE).
Others suggest the energy is a product of the excellence of the administrators and trustees who have steered the ship of Andover Newton through the dark waters of a tempestuous economy.  And still others believe that the faculty, many of whom are also ordained ministers, keep students seeking out Andover Newton as an academically rigorous and faith-grounded institution.
Whether the reason is one or a combination of these factors remains unanswered.  At a recent convocation address, Nick Carter, president of the school, highlighted the importance of an Andover Newton education, stating that the school prepares "Ambassadors of Hope" for a world where they have never before been so needed.
Students tend to agree. Rahsaan Hall, a Master of Divinity student at the school is one of them. "I continue to be impressed with the quality of faculty and the unique opportunities to engage others in dialogue around challenging theological issues with real world implications…," he says. "One of the consistent experiences I have had in higher education is the constant feeling of being 'other.'  Although I am certainly one of a few different-hued faces at [Andover Newton], I have not been made to feel as if my culture, background or experience is without value."