U.S. Senate candidates trying to court voters of color
Yawu Miller | 12/3/2009, 7:31 a.m.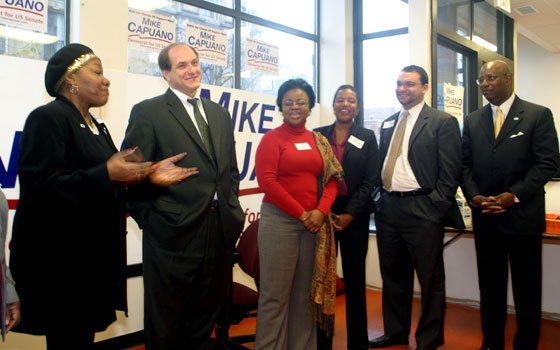 In the South End two weeks ago, mayors elect Setti Warren of Newton and Willy Lantigua of Lawrence joined Fitchburg mayor Lisa Wong for a public endorsement of Attorney General Martha Coakley's campaign for Senate.
Last week in Dudley Square, U.S. Rep Michael Capuano's senate campaign opened an office as state representatives Gloria Fox, Willie Mae Allen, Marie St. Fleur and Linda Dorcena and City Councilor elect Felix G. Arroyo made public their support.
While the two Democratic front-runners have the lion's share of endorsement from black, Latino and Asian political activists, blacks are playing key roles in City Year founder Alan Khazei's senate campaign. Political activist Ron Bell has been working as a senior advisor to the campaign and Boston Foundation program officer Robert Lewis is volunteering with Khazei.
Blacks make up just five percent of the state's population and Latinos, six. But with the four candidates vying for the Dec. 8 Democratic primary, locked in a fierce battle for votes to fill the seat vacated by the late Edward Kennedy, every constituency is of utmost importance.
And with pundits predicting that a candidate will need between 150,000 and 200,000 votes to win, endorsements in this special election may be more important than usual.
"The validation that people hear from their co-workers, friends and elected officials matters," Capuano said during the opening of his Dudley Square office. "Most voters are still undecided."
Because all four Democratic candidates offer similar positions on most major issues — health care reform, immigration reform, banking reform, the wars in Iraq and Afghanistan — voters have focused in on the candidate's styles and histories.
And many have thrown their support behind the candidate with whom they've had the most history.
St. Fleur cited Capuano's help in securing federal funding for projects important to constituents in her Dorchester district like the reconstruction of the Fairmount commuter rail line.
"He went into Congress and fought for that and brought the money back," she said. "He understands the issues around civil rights. And he's a regular guy who gets the lives of everyday people. We need more people like him in the Senate of the United States."
Joel Barrera, who heads the Commonwealth Legislative Seminar, cited his long working relationship with Coakley among the reasons he is supporting her.
"I've known her for years," he said. "She's been very accommodating. Her staff has been responsive."
He also cited Coakley's support for immigration reform and wage enforcement.
"She has said that immigration status doesn't matter," he added.
Coakley's endorsers include former Suffolk County District Attorney Ralph Martin and former City Councilor Bruce Bolling.
Bell cited his 22-year professional relationship with Khazei, during which he worked with the City Year nonprofit Khazei founded.
"He's thoughtful," Bell said. "He's very intelligent. He's an agent of change and he's an organizer. This was a no-brainer. He's more well-rounded than the other candidates."
Among Khazei's endorsers are Sufolk County Sheriff Andrea Cabral, former state Rep. Mel King, former Boston University School of Social Work Dean Hubie Jones and banker and social activist Gail Snowden.