Capuano for U.S. Senate
12/2/2009, 2:30 a.m.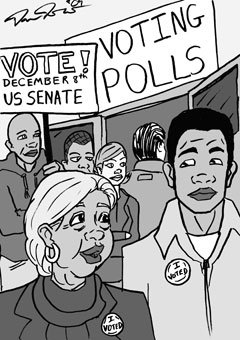 Capuano for U.S. Senate
Politics is often cold-blooded. Ask any candidate about the difficulties encountered in a campaign for high office. In Boston they say that politics is a contact sport. That is a useful analogy because the ultimate objective of a political campaign is the same as a sports contest. The goal is to win.
Ethnic groups in America have enhanced their status by voting as a group. Not everyone votes the same way, of course, but a large turnout and a solid vote for the candidates who supported their interests attract the attention of politicians.
The ability of African Americans to follow this pattern was impeded earlier by racial discrimination, especially in the old Confederacy, before the success of the Civil Rights Movement. But the almost unanimous vote for Barack Obama has given notice of the power of blacks at the polls.
In a democracy, citizens can cast their votes for any candidate they choose. However, astute African Americans will consider how to vote in a way to build the community's political clout. The recent election for mayor of Boston demonstrated the power of the black vote. A 70 percent margin for Mayor Thomas M. Menino helped assure his victory.
The Democratic primary election for U.S. senator on Tuesday, Dec. 8 will undoubtedly determine who will replace the late Ted Kennedy in the Senate. Fortunately, all of the candidates have had distinguished careers. They are: State Atty. General Martha Coakley, U.S. Rep. Michael Capuano, businessman Steve Pagliuca, and City Year founder Alan Khazei.
In a Boston Globe poll taken between Nov. 13 and 18, only 18 days before election day, there is now a strong indication of how well the candidates are doing. It appears that Pagliuca and Khazei, with only 15 percent and 6 percent of the vote, respectively, have too much ground to make up in too short a period of time. So the race is realistically between Coakley (43 percent) and Capuano (22 percent).
Coakley now enjoys a 2-to-1 lead over Capuano, which might ordinarily be viewed as insuperable. However, according to the poll, support for any candidate is soft. Only 26 percent of respondents have definitely decided and 74 percent are either undecided or only leaning toward one candidate or the other. The battle is now for the uncommitted voters.
Blacks who want to make a strategic vote to enhance black political power should vote for Capuano. If he fails to win the election for the Senate, Capuano will still remain the congressman from the 8th Congressional District, which includes most of the sections of Roxbury and Dorchester with a substantial black population. In fact, 23.2 percent of the district is black. The 8th Congressional District is the most important contact of black Bostonians with the U.S. House of Representatives.
Over the years, Capuano has ably and aggressively represented the interests of African Americans and others in his district. It is reasonable for him to expect that his constituents will acknowledge at the polls his achievements in education, civil liberties and economic protections for consumers.
If Capuano does not win despite a solid black vote, he will certainly respect the support from his district when he returns to Congress. And if he wins, blacks constitute 7 percent of the state's population, so he will undoubtedly continue to be attentive to minority constituencies.
This is the cold-blooded aspect of politics. There simply is no downside advantage in a vote for any of the other candidates. How is the community strengthened if they lose? As blacks attain political maturity, these are some of the issues that they must consider.
Of course, the most important strategy is a great turnout at the polls whenever there is an opportunity to vote, whether it is a preliminary or a final election.