Sen. Edward M. Kennedy dies at 77
Associated Press | 8/26/2009, 5:37 a.m.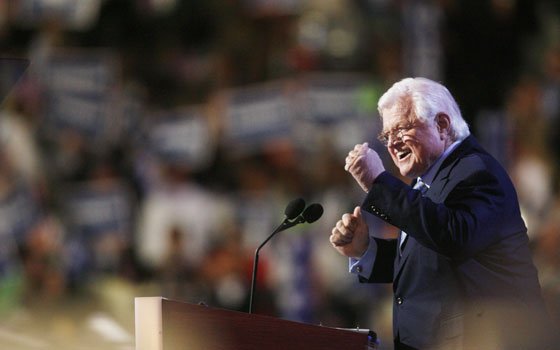 Sen. Edward M. Kennedy, D-Mass., greets the crowd at the Democratic National Convention in Denver on Monday, Aug. 25, 2008, at the Pepsi Center. Kennedy, whom President Barack Obama called "the greatest United States senator of our time," died Tuesday night at his home on Cape Cod after a year-long struggle with brain cancer. He was 77. (AP photo/Rodolfo Gonzalez/Rocky Mountain News)
Sen. Edward M. Kennedy of Massachusetts, the last surviving brother in a political dynasty and one of the most influential senators in history, died Tuesday night at his home on Cape Cod after a year-long struggle with brain cancer. He was 77.
In nearly 50 years in the Senate, Kennedy, a liberal Democrat, served alongside 10 presidents - his brother, John Fitzgerald Kennedy, among them. He compiled an impressive list of legislative achievements on health care, civil rights, education, immigration and more.
His only run for the White House ended in defeat in 1980. More than a quarter-century later, he handed then-Sen. Barack Obama an endorsement at a critical point in the campaign for the 2008 Democratic presidential nomination, explicitly likening the young contender to President Kennedy.
To the American public, Kennedy was best known as the last surviving son of America's most glamorous political family, father figure and, memorably, eulogist of an Irish American clan plagued again and again by tragedy.
Kennedy's death triggered an outpouring of superlatives, from Democrats and Republicans as well as foreign leaders.
"An important chapter in our history has come to an end," Obama said in a written statement. "Our country has lost a great leader, who picked up the torch of his fallen brothers and became the greatest United States senator of our time.
"For five decades, virtually every major piece of legislation to advance the civil rights, health and economic well being of the American people bore his name and resulted from his efforts," said Obama, vacationing at Martha's Vineyard off the Massachusetts coast.
Kennedy's family announced his death in a brief statement released early Wednesday.
"We've lost the irreplaceable center of our family and joyous light in our lives, but the inspiration of his faith, optimism and perseverance will live on in our hearts forever," the statement said. "We thank everyone who gave him care and support over this last year, and everyone who stood with him for so many years in his tireless march for progress toward justice, fairness and opportunity for all."
A few hours later, two vans left the family compound at Hyannis Port in pre-dawn darkness. Both bore hearse license plates - with the word "hearse" blacked out.
There was no immediate word on funeral arrangements. Two of Kennedy's brothers, John and Robert, are buried at Arlington National Cemetery across the Potomac River from Washington.
Senate Majority Leader Harry Reid of Nevada issued a statement that said, "It was the thrill of my lifetime to work with Ted Kennedy. ... The liberal lion's mighty roar may now fall silent, but his dream shall never die."