Person's swing hits the right note at jazz fest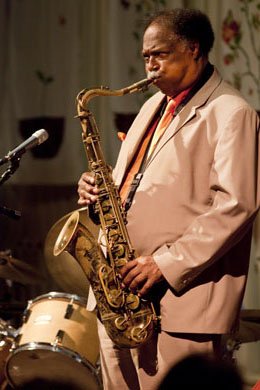 Despite the muggy weather, alto saxophonist Houston Person looked crisp when he strode on stage last Saturday night at the Unitarian Universalist Church, the home of the Marblehead Jazz Festival for the last 25 summers.
Clad in a tan suit with a rose-colored tie and matching pocket square, Person was here for his fifth year at the festival, which offers A-list performers an intimate space with excellent acoustics and eager fans. A capacity crowd of more than 250 filled the pews, cooled by sea breezes from open windows.
He performed in Marblehead with the Houston Person Quartet, consisting of pianist Stan Hope, who has played with Person for five decades; Jeff Chambers on bass; and Person's drummer for 15 years, Chip White, who studied with Boston jazz greats Alan Dawson and Herb Pomeroy while attending the Berklee School of Music.
No less an authority than Dizzy Gillespie said of Person, "He's one of the best … He's got bull chops!"
Person, 75, is a tall man with an erect and relaxed stance. As he plays, his cheeks pucker and his fingers work the keys of his instrument, but he does not contort himself or move his saxophone in convulsive rises and dips. Yet his playing is full of expressive power and exudes easy mastery, grounded in swing.
Person holds a conversation with the audience rather than delivering a soliloquy, drawing from a deeply sociable vein of jazz rooted in dance parties, ballads, soul music, and rhythm and blues. Person once told an interviewer that he likes jazz that "relaxes you and makes you feel good. I'm going to always play the things that I think contribute to good jazz, such as the blues and swinging."
Raised in Florence, S.C., Person studied music at South Carolina State College and at Hartt College of Music in Hartford, Conn. While in the U.S. Air Force band stationed in Germany, he played with Eddie Harris and Cedar Walton.
During the '60s, Person made an acclaimed series of recordings for the Prestige label and began a 30-year performing partnership with vocalist Etta Jones, which continued until her death in 2001.
He has made more than 75 albums as a bandleader, including a 1990 recording with bassist Ron Carter, "Something in Common," which won the Independent Jazz Record of the Year Award. In 1999 and 2000, Person also produced two of Jones' albums, both of which Grammy finalists for Best Jazz Vocal.
Last Saturday night, the ensemble took the audience through a songbook of classics, rendering jazz and pop standards free of cliché with the agile harmonic surprises of bebop and tuneful improvisations that turned each vintage song into a meandering joy ride.
From the first ballad, "Namely You" by Johnny Mercer, the quartet took an approach that continued throughout the evening, as Person introduced and explored the melody with a relaxed, swinging momentum. Hope, a suave and spare pianist, picked it up as a point of departure, repeating and toying with it, pausing every few notes off a beat and stripping it to its essentials. He then let the melody drift, threading in phrases from other tunes along the way.