Arts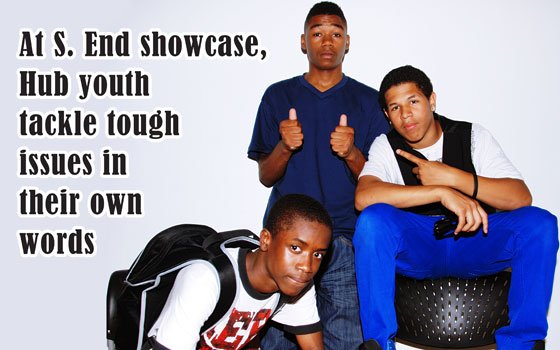 Youth from the Action for Boston Community Development (ABCD) SummerWorks Program recently displayed their talents, presenting a performance and art showcase that addressed hard-hitting themes like unemployment, substance abuse, violence and peer pressure.
The "Lyrical Minded 617: Get Your Mind Right!" showcase was presented on Thursday, Aug. 13, 2009, by ABCD's South End Neighborhood Action Program (SNAP) in association with MassHousing, and hosted by Bryonn Bain of New York's Blackout Arts Collective.
According to Bain, the show's message was powered by the authentic voices of its young participants.
"All of these kids are already talented," said Bain. "I just had the opportunity to help them focus their voices and talents into making these powerful PSAs and performances tonight."
The showcase featured performances of spoken word poetry, dance and hip-hop, as well as five public service announcements targeted at addressing various issues facing young people and the tough choices they are often forced to make.
All of the show's content, from the poems to the PSAs, was created directly by the youth. SNAP Director Shilo Kuriakose, who shared executive producing duties with Bain, stressed the importance of allowing the kids to plead their own case.
"The kids wrote everything," she said. "They deal with these issues everyday. It was very important [that] they have the opportunity to not only speak about the problems, but [to speak] to them as well. Their problems, their solutions."
ABCD Executive Vice President John J. Drew echoed Kuriakose's statements.
"How many youngsters believe that their voices can be heard?" asked Drew, a Charlestown native who said he has been with the citywide antipoverty agency for 38 years. "Sometimes speaking out is talking about hurt. It is a thing of terrible importance."
In one piece, a young girl narrated her demise as a direct result of choosing a path of gang violence. The faces of some audience members revealed its reflection of a reality close to home.
At the program's end, hip-hop music blared as the performers engaged in an impromptu session of "krumping," a high-powered and expressive dance style popularized on the West Coast and marked by sharp, jerking movements.
One song in particular — "Ante-Up," the 2001 hit single from Brooklyn hip-hop duo M.O.P. — set the stage for an enthusiastic set by three young performers.
Fifteen-year-old dancers Chris Parker, Renic Franklin and Traiquan Stroud each took part in the PSAs. They said they use their passion for performance and dance to counter issues of drugs and gang violence.
"The program allows me the confidence to show my talent as a dancer as well as speak in front of people," said Franklin. "I have a lot going for me because of the program, and I love them for that."
Surprisingly, the song "Ante Up," which includes strong lyrical content depicting acts of armed robbery, was played unedited from beginning to end, with no immediate complaints arising from those in attendance. Host Bain was quick to note that the same songs, scenarios and strong language are waiting for young participants on the street and, for some, in their homes.