Flaherty banking on big base, small talk to unseat Menino
Yawu Miller | 8/19/2009, 5:47 a.m.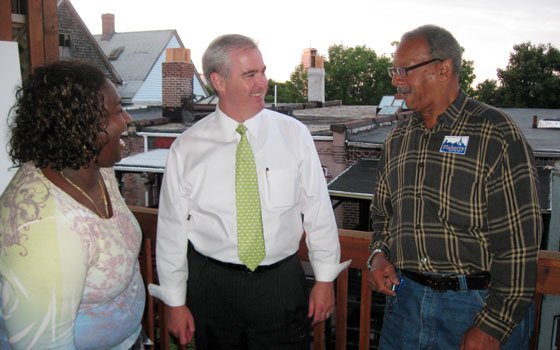 According to City Councilor-at-Large Michael F. Flaherty, the idea came in the wake of the municipal election of 2007, in which only 13.6 percent of eligible voters cast a ballot. To reach more residents and drive up the low rate of turnout, Flaherty would hold a series of kitchen-table meetings with small groups of voters in their homes.
Now, after what his campaign estimates to be 270 such meetings, Flaherty is in the heat of the most competitive mayoral race since Mayor Thomas M. Menino was first elected in 1993.
During a conversation last week at the home of Corlis Melchoir, a former quality assurance manager recently laid off from an insurance company, Flaherty touched on what he said were the main themes he's been hearing across the city.
Lagging performance of public schools, Menino's proposal to move City Hall to the South Boston waterfront and worsening crime are among the issues that trigger the most complaints, according to Flaherty.
"You ask people, 'Do you know anyone who's been shot?' and a lot of hands go up in some neighborhoods," said Flaherty.
At Melchoir's Fort Hill condominium, Flaherty spoke about the importance of working with youths to stem violence.
"You learn you're not going to arrest your way out of this problem," he said. "Every day, people are being let out of South Bay [House of Correction]. It's not months or days; it's a matter of hours before they're back into it. We need better re-entry services."
Flaherty's strategy of meeting with small groups of voters is part of his effort to make city government more inclusive, according to Natasha Perez, the campaign's communications director.
"Everything in the campaign is designed to allow people to have a real voice in the future of the city, from our Web site to our kitchen table conversations," Perez said. "It's all about bringing in the voice of the people of the City of Boston in a real way."
Flaherty, Menino, fellow mayoral candidates Sam Yoon and Kevin McCrea, 15 at-large City Council hopefuls and several district council seat contenders are all vying for the attention of the 13-or-so percent of voters likely to go to the polls for the Sept. 22 preliminary contest.
Widely perceived as the front-runner, Menino is reportedly running a no-holds-barred campaign against his challengers, leveraging the power of incumbency to raise funds and muster an army of supporters, many drawn from the vast ranks of city employees.
Menino's name is posted on every public works project, on the sides of buses and on bumper stickers of cars driven by city employees. Long a ubiquitous presence at community events, Menino has a presence that goes beyond just solid name recognition — 57 percent of respondents to a recent Boston Globe poll said they had met the mayor.
While Flaherty has consistently received the highest number of votes in the citywide at-large council races, he has traded places with Stephen J. Murphy for the lowest percentage of the black vote garnered by an incumbent councilor in the last two election cycles.