Ex-Dot crime spot now affordable housing site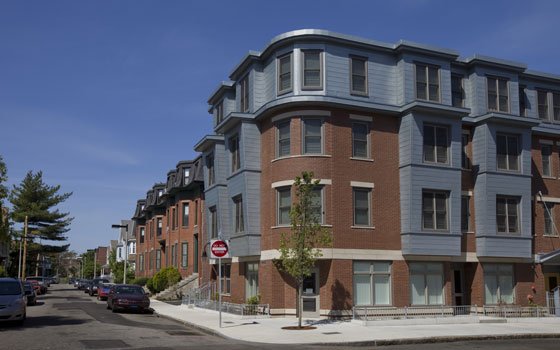 The "south" phase of the Dudley Village Homes project, which city officials opened with a ribbon-cutting ceremony last Saturday, adds 26 units to Dorchester's affordable housing stock. The companion "north" phase adds 24 more, for a total of 50 new affordable housing units. (Photo courtesy of the Dorchester Bay Economic Development Corporation)
The new, 50-unit affordable housing complex at Dudley Village Homes in Dorchester will promote peace at what was once a hotbed of crime, city housing officials said at a ribbon-cutting ceremony held last Saturday.
That change will come not through increased police presence or open combat with criminals, they said, but by getting residents to reinvest in their community, fostering harmony by building neighborhood ownership.
The site of the Dudley Village development was once occupied by the Fundonzinho Lounge, a Dudley Street club formerly frequented by the city's Cape Verdean population that had grown to be seen as a magnet for crime. Through the years, the lounge reportedly hosted criminal activities ranging from drug deals to shootings — it was the site of four murders between the 1990s and early 2000s.
The violence also bled over into the lives of the club's neighbors, according to the nonprofit Dorchester Bay Economic Development Corporation (DBEDC), which led the redevelopment effort. William C.B. Lynch, a health inspector in the area during the 1980s and '90s who attended the ribbon-cutting ceremony, remembered the violence and the impact it had on the community.
"Owners broke their hearts every day trying to keep their businesses running," said Lynch, who credited local police for cleaning up crime in the area.
The ousting of the criminal element began in April 2003, when the DBEDC acquired the lot, bought the lounge's liquor license and sold it to the Acapulco restaurant in Jamaica Plain. Then, in 2006, the development corporation had the lounge razed, opening the door for construction of the five buildings that make up the new Dudley Village. The project was broken up into two phases — Dudley Village North, which includes 24 units, and Dudley Village South, which has 26.
Housing officials said the development of the Dudley Street parcel marked the beginning of residents' reinvestment into their community by providing safe, affordable homes.
"Making the area a beautiful place to live will help to drive out criminal elements by giving the residents something to preserve in an affordable living area," said Kerry O'Brien, deputy director of public relations for the city's Department of Neighborhood Development (DND).
At last Saturday's ribbon-cutting, one teen working as a landscaper with Dudley Neighbors Inc., the business arm of the Dudley Street Neighborhood Initiative (DSNI), slapped hands with a fellow worker, saying his job was to make the neighborhood beautiful.
"This is the point," said O'Brien. "These kids now have a safe place to live."
The majority of the $20 million in redevelopment costs was covered by contributions from 23 investor groups, including the Local Initiatives Support Corporation, the Massachusetts Housing Investment Corporation and the Massachusetts Technology Collaborative. Only $2 million of the funding came from the City of Boston directly, along with $1.5 million from the state, according to a statement released by the Mayor's Office.