Common staging of Bard classic avoids 'Errors'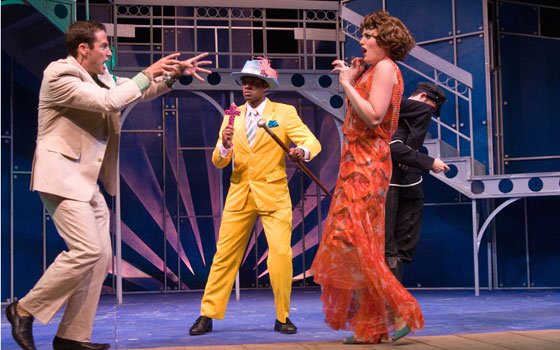 (From left): Antipholus of Syracuse (Dan Roach), Pinch (Cheo Hodari Bourne) and Adriana (Jennifer Ellis) share the stage in the Commonwealth Shakespeare Company's production of "The Comedy of Errors," running through Sunday, Aug. 16, 2009, at Boston Common. (Brilliantpictures Inc./Andrew Brilliant photo)
As night falls in Boston Common, a sunny, citrus-colored South Beach emerges on the stage near Parkman Bandstand, where the Commonwealth Shakespeare Company is performing its 14th annual free summer production in the park, "The Comedy of Errors." Led by founding artistic director, Steven Maler, this exuberant and well-crafted production is the work of pros.
This effervescent staging of one of Shakespeare's first comedies has sweetness, tartness and lots of color, from its Latin-inflected music and dance numbers to its elegant Art Deco costumes and stage set, all expertly illuminated by lighting designer Scott Pinkney with a warm glow that sets off their bright tones.
The sound design by David Wilson, who also created the production's original music, beautifully projects the actors' voices.
Maler has moved Shakespeare's comedy from the Mediterranean trading capital of Ephesus to '30s-era South Beach, a setting as crass, wild and cosmopolitan as any Elizabethan-era seaport.
Accommodating scenes with up to 27 players, the set design by Jon Savage includes a sand beach just below the stage, complete with a lifeguard on duty and a streamlined Art Deco structure on stage that evokes the town's inns, bars and — improbably — an abbey, here more like a roadside mission. The actors move from aisle and beach to stage, and climb a spiral staircase where they are visible from the farthest beach blanket in the audience below.
In unison with the mime and dance scenes, the costumes by David Israel Reynoso do a lot of storytelling. They convey the kaleidoscope of character types populating this fantasy port, rife with high style — from the habits of the frolicking, line-dancing nuns, to the vaguely voodoo hat and suit of the exorcist Dr. Pinch, and the mid-calf chiffon dresses of the plot's pampered matrons. Between acts, a svelte lady struts across the stage walking her greyhound, each time wearing an increasingly fantastical outfit.
In this flurry of flounce, sequins, chiffon and debonair eveningwear, the only plain-suited characters with a hint of sobriety are the merchants, including Egeon, played by Fred Sullivan Jr. A wealthy and worn Syracusan, Egeon faces execution because he has entered Ephesus, violating a law that reflects the bitter feud between the two trading capitals — Syracusans who enter Ephesus face death or a fine of 1,000 marks.
Duke Solinus of Ephesus, played as a suavely decadent figure by Dmetrius Conley-Williams, hears Egeon's tale. The old man has traveled five summers in search of his son, Antipholus, who left Syracuse to find his mother and twin brother, who is also named Antipholus. The family was separated in a storm 33 years ago, when the boys were infants.
Also lost were another set of identical twins born on the same day, each named Dromio. Egeon purchased the twins from their impoverished parents and planned to raise them as his sons' servants. Moved by his story, the Duke grants Egeon a day to find someone who will pay his ransom.