Equal rights fight a labor of love for Mass. anti-bias chief
Talia Whyte | 4/29/2009, 5:45 a.m.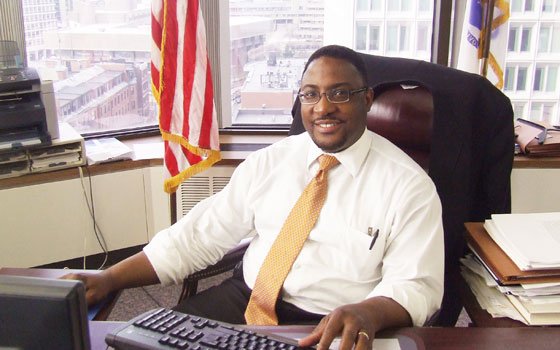 Fighting for the rights of society's marginalized members has been Malcolm S. Medley's passion since he was a teenager.
As a 15-year-old black boy whose family had just come to the U.S. from Jamaica, Medley attended Boston's schools in the aftermath of the heated fight over school desegregation. At Hyde Park High School in the early 1980s, Medley says he recalls being told by his guidance counselor that he couldn't become a lawyer because of his race, and that he should consider other careers more suitable for black people.
"It became clear to me at that time that not everyone is racially sensitive," Medley said. "But I didn't let that deter me. I am one of those people that if you tell me I can't do something, I will do it."
A man of his word, Medley went on to earn a bachelor's degree at Northeastern University and a J.D. from Boston University School of Law. Later, he worked as a civil rights lawyer before accepting an appointment to become the chairman of the Massachusetts Commission Against Discrimination (MCAD).
As the head of the state's chief civil rights agency, Medley leads investigators, fact-finders and attorneys tasked with enforcing state and federal civil rights laws.
Prior to his appointment to the position by Gov. Deval Patrick in 2007, Medley's legal experience extended to appellate practice in federal and state appeals courts and administrative agencies — including, coincidentally, providing counsel to the Boston Public Schools in discrimination cases.
Medley also served as legal counsel to OneUnited Bank, the largest black-owned bank in the country. He said his experience working for the bank has contributed to the commission's efforts to deal with the growing foreclosure crisis, which many analysts say has disproportionately affected communities of color.
"We acknowledge that race has been targeted by some banks," Medley told the Banner. "MCAD and HUD [the U.S. Department of Housing and Urban Development] are working together in a predatory lending issues group on how best to deal with the tremendous number of foreclosure cases."
Of the nearly 4,000 formal complaints filled with the  MCAD annually, a large number are racial discrimination claims. While some have forwarded the notion that the election of President Barack Obama is proof that racism has run its course in America, Medley said the MCAD has seen an uptick in racial discrimination complaints in recent years.
Medley said the MCAD office recently received a call from someone questioning the need for such an agency to exist anymore. But despite the presence of African American leaders in both the White House and the State House, Medley said he doesn't believe there is enough evidence yet that America is truly "post-racial."
"I wish it were true that we were post-racial, but that statement makes no sense to me," Medley said. "To [cite] an election of an African American to a high office as the sole [proof] for people overcoming racism makes no sense to me. There is still so much work left to be done."