Hennigan youth hoops league gets kids active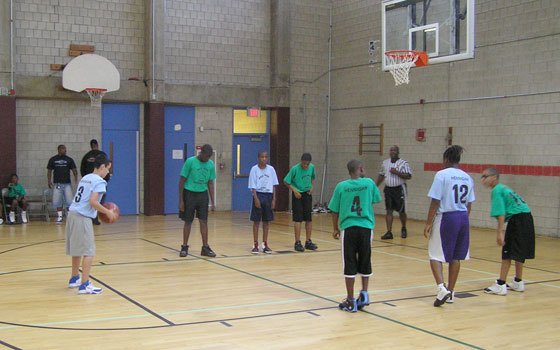 Robert White had a problem.
"I saw a lot of these children hanging out during open gym time, not doing anything," said White, athletic director of the Hennigan Community Center in Jamaica Plain. "[I] figured they needed something to do."
During the summer months, a lot of parents enroll their children in various programs to keep them out of trouble. But many programs target specific age groups, and kids in the 10- to 12-year-old age range are sometimes overlooked.
Running for seven weeks, and culminating with the presentation of awards and a pizza party last week, the Hennigan Community Center gave neighborhood youth something to do, playing host to a 12-and-under basketball league for those children unable either to earn a spot on a team in the Boston Neighborhood Basketball League (BNBL) or to pay to play in local leagues that charge a sign-up fee.
To get the pee-wee league up and running, White looked to his community group "Friends for Life," a group of buddies that volunteer their time as coaches, referees and mentors to the young players. The "Friends" include members of the local hoops community like Malcolm Wynn, coach of the varsity men's basketball team at Curry College, as well as childhood friends like Kenny Lightfoot, a firefighter assigned to Ladder 18 in South Boston and a certified referee.
The group pooled their resources to buy T-shirts for each member of the league's six teams. Outfitting 60 kids wasn't cheap, but White, Lightfoot and the other friends said the cost wasn't a concern.
"Anything for these kids," said Lightfoot.
At the outset, White said, the Hennigan league was not designed "as a developmental league for the BNBL."
"Players not good enough to make a BNBL roster could play in my league for a year so they could make a BNBL squad next year," he said.
But soon after the six-team Hennigan league started, the BNBL season ended, and several teams looking to keep playing turned to White hoping to join up.
To White's surprise, the demand was too much; due to scheduling conflicts, he had to turn away those teams that approached him after the Hennigan league season began.
While the Hennigan league is no longer intended as a feeder for the BNBL, skill development is still a major focus. In all league games, which are held at the community center on Tuesday and Thursday nights, all players present are required to get at least three minutes of continual on-court time.
For their part, the players are enjoying the Hennigan league's approach.
"I like basketball, and I had a good time in the league," said Kewan Platt, 11, of Jamaica Plain.
A key draw is that participation in the Hennigan league is completely free of charge, a decision White made to help achieve his main goal of keeping the children coming back. Instead of parents having to worry about coming up with money, they just had to make sure the kids showed up to games and made a commitment.