Second Suffolk candidates talk issues, accountability
Talia Whyte | 9/10/2008, 4:45 a.m.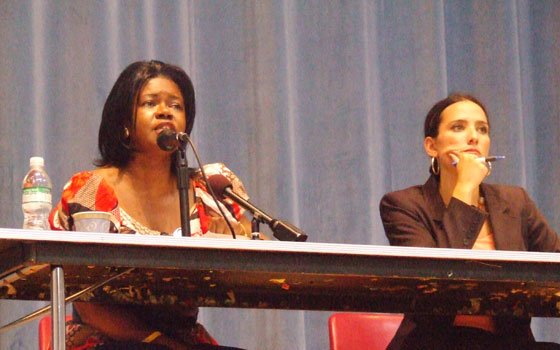 The hottest political race in the city came to a head last Thursday evening at English High School in Jamaica Plain, where state Sen. Dianne Wilkerson and Sonia Chang-Diaz, her opponent in the upcoming Sept. 16 Democratic primary election, debated some of the most pressing issues in the Second Suffolk District.
When she was elected in 1993, Wilkerson became the first African American woman to serve in the state Senate; today, she is the chamber's only black member. Though highly regarded by her staunchest supporters for championing causes such as affordable housing, health care and marriage equality, Wilkerson's political career has faced roadblocks in recent years due to legal and financial woes. Two years ago, her name nearly did not appear on the Democratic primary ballot because her campaign failed to submit the 300 signatures necessary to qualify.
Chang-Diaz, a longtime community activist who was disgruntled by Wilkerson's alleged accountability problems, used the senator's ballot mishap to her advantage in the 2006 election. Running as a write-in candidate, the electoral newcomer came within 700 votes of wresting the district's Senate seat away from the 15-year incumbent.
Chang-Diaz' reasons for running have not changed.
"I look around and I see that there are problems that are not being looked at," she said before the debate. "I talk to a lot of people in the community who are concerned about these problems, and they want to see new leadership in the community."
Throughout the debate, the two candidates didn't present different positions on many issues, but rather, different approaches to dealing with them. For example, the candidates discussed education at length, both agreeing that the city's public school system is in serious need of a massive overhaul.
 Wilkerson advocated for a "culturally diverse teacher body," better health care for youth, particularly oral health, and more same-sex schools. She also noted that special education has become the "de facto home" for a disproportionate number of black and Latino boys, a troubling trend that she said needs to be reevaluated by school officials.
"If 50 percent of black and Latino boys are in special education, then there is nothing special about them," she said.
On the other hand, Chang-Diaz' approach calls for looking at the budget to see what funds are available to decrease class sizes, bolster parental involvement and hold school leaders to a higher standard.
"All of these things require resources, and I am willing to fight for them," she said.
As a former teacher in the Boston and Lynn public school systems, Chang-Diaz said that education should be a priority, as it is the root to other problems in the community, like crime and unemployment.
From there, the discussion turned to reform of the state's Criminal Offender Record Information (CORI) system. While both candidates agreed that the present system hinders opportunities for economic advancement for many in the community who have criminal records, Wilkerson said that she will not support any legislation on the matter that doesn't mention juveniles.
On the issue of street violence, Chang-Diaz reiterated the need for better schools and more sensible gun control laws. Wilkerson suggested revisiting mandatory minimums and providing more youth summer jobs.