Ewing, Olajuwon linked again, this time in Hall
Associated Press | 9/10/2008, 4:49 a.m.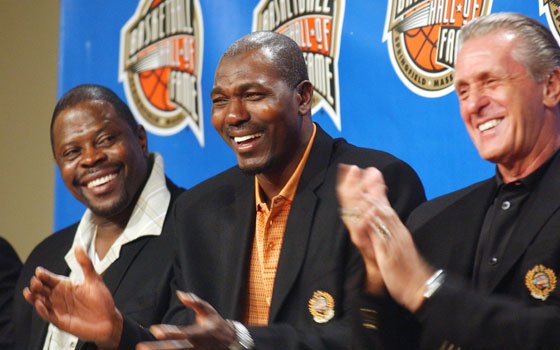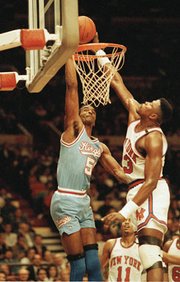 Former NBA players Patrick Ewing (left) and Hakeem Olajuwon (center) and coach Pat Riley share a light moment during a news conference at the Basketball Hall of Fame in Springfield, Mass., on Friday, Sept. 5, 2008. All three were among those inducted into the Hall in this year's class, which also included Dick Vitale, Adrian Dantley, Bill Davidson and Cathy Rush. (AP photo/Nathan K. Martin)
SPRINGFIELD, Mass. — Hakeem Olajuwon, Patrick Ewing and Pat Riley were enshrined into the Basketball Hall of Fame last Friday night, but it was inductee Dick Vitale who, as expected, stole the show.
Others in the class, which also included Adrian Dantley, Detroit Pistons and Shock owner Bill Davidson and former Immaculata University coach Cathy Rush, gave speeches. But the ESPN commentator held court, preaching with passion for almost 30 minutes about everything from basketball to broadcasting to family.
He connected all three in a story about his dad, who pressed coats during the day and was a security guard at night.
"I've been stealing money talking about a game, getting paid," he said. "That's why it breaks my heart when I see some athletes, chips on their shoulder. Are you serious? Flying charter planes? I don't want to hear about 80 games a year. What other job do you get four months' vacation? Are you serious? Making millions if you can't play."
Vitale, who coached high school, college and briefly in the NBA, was enshrined as a contributor to the game after spending the past 30 years becoming the voice of college basketball — extolling the virtues of "PTPers (prime time players)," screaming "Awesome baby!" and being passed overhead through student sections across the country.
It was Vitale who nicknamed Olajuwon "The Dream" during his freshman year at Houston, where the 7-footer led the Cougars to three Final Fours. In the NBA, Olajuwon had 27,000 points, 13,747 rebounds and 3,830 blocks
"It was a dream that came true," he said.
Ewing also went to three Final Fours at Georgetown. He scored just under 25,000 points and had 11,607 rebounds in the NBA, becoming the New York Knicks' career leader in points, rebounds, blocked shots and steals, and earned two Olympic gold medals.
Olajuwon was asked about the friendly rivalry he and Ewing shared while becoming two of the greatest centers in basketball history.
"Who said it was friendly?" Olajuwon replied.
Ewing's Georgetown Hoyas beat Olajuwon and the Houston Cougars in the 1984 NCAA championship game. But Olajuwon earned two NBA rings in Houston, the first 10 years later, by beating Ewing's New York Knicks in a seven-game series in 1994.
"I could not picture my career without Patrick," Olajuwon said before the induction ceremony. "We are so intertwined from college. We play alike in so many ways. We are blocking shots, steals, intimidation. When Patrick is at the other end of the floor, you know you are playing against your toughest opponent."
Ewing, who came to the United States from Jamaica at the age of 12, said he felt a kinship with Olajuwon, who grew up playing soccer and team handball in Nigeria. Both, he said, found their identity while playing basketball in their new country.