Farrakhan announces 'new beginning' for Nation of Islam
Associated Press | 10/22/2008, 4:57 a.m.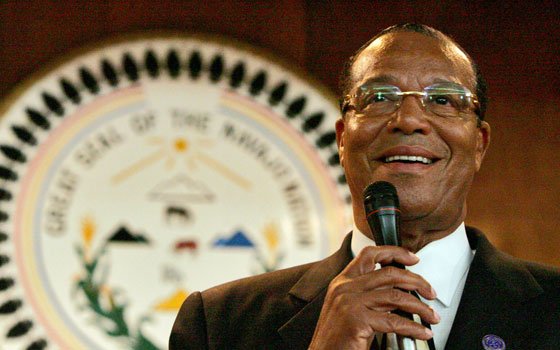 CHICAGO — The Nation of Islam, a movement generally closed to outsiders, held a rare open-to-the public event at its Chicago-based headquarters in what the Minister Louis Farrakhan deemed a "new beginning" for the group.
Hundreds of religious leaders of different faiths were invited to Sunday's event, a rededication of the group's historic Mosque Maryam on the city's South Side.
"We have restored Mosque Maryam completely, and we will dedicate it to the universal message of Islam, and the universal aspect of the teachings of the Honorable Elijah Muhammad," Farrakhan said in an invitation letter. "It represents for the Nation of Islam, a new beginning."
Farrakhan spoke for nearly two hours at the event, covering topics including immigration, public schools, violence and morality. He vaguely referred to the presidential election but did not specifically mention any candidates.
"We are all in a journey to become complete human beings," the 75-year-old Farrakhan told the crowd of thousands gathered inside the mosque and in white tents outside.
The event came just weeks after the death of Imam W.D. Mohammed, the son of Nation founder Elijah Muhammad, who broke with the group and moved thousands of African Americans toward mainstream Islam.
The Nation purchased the mosque, a former Greek Orthodox church, in 1972 and has since been making renovations. The stately 1948 structure, embellished with a golden dome and topped with an Islamic crescent moon, is adorned with Quranic verses in Arabic.
Experts say opening the mosque's doors to the public is a calculated move.
"It is a very conscious effort to open the mosque up to the community and to rededicate the community to learning about Islam," said Aminah McCloud, a professor of Islamic studies at DePaul University. "Previously, the Nation has been open to people coming to visit it, but its members don't generally go anywhere else … now there is a concerted effort."
While the Nation has espoused black nationalism and self-reliance since it was founded in the 1930s, in recent years members have reached out to other groups. For instance, the Nation has a Latino liaison and has become involved in immigrant rights rallies and marches. Also, the Minister Ishmael Muhammad, a top assisting minister at the mosque and widely thought to be a potential successor to Farrakhan, has talked about unity between all people, at times speaking in Spanish.
Farrakhan, 75, has haltingly tried to move the Nation toward traditional Islam, which considers the American movement heretical because of its view of Elijah Muhammad as a prophet, among other novel teachings. Orthodox Islam teaches that there has been no prophet after Prophet Muhammad in the seventh century.
He's also played down some of the group's more controversial beliefs. The Nation of Islam has taught that whites are descended from the devil and that blacks are the chosen people of Allah.
Sunday's event wrapped up a week of events marking the 13th anniversary of the Million Man March, which Farrakhan began in 1995. That year, hundreds of thousands of people traveled to Washington, D.C. to participate.
Last Thursday, Farrakhan spoke to inmates at Cook County jail urging self-improvement, atonement and reconciliation, principles the Million Man March promoted.
Those values "can help reduce violence and anti-social behavior … and have universal significance and will benefit those willing to listen," according to a statement from the Nation.
Farrakhan's Sunday speech marked his second major public address this year, in addition to several smaller community and religious events he has attended.
His public appearances have surprised many since in 2006 he seceded leadership to an executive board while recuperating from serious complications from prostate cancer.
In February, Farrakhan appeared at an annual Saviours' Day event in Chicago and called Democratic presidential candidate Barack Obama the "hope of the entire world" that the U.S. will change for the better. The Obama campaign quickly denounced Farrakhan's support, because of past comments about Jews that many have called offensive.
In the past months, Farrakhan has attended funeral services of W.D. Mohammed and Jabir Herbert Muhammad, both sons of the late Elijah Muhammad.
(Associated Press)