Hub anti-war rally lacking in diversity
Associated Press | 10/15/2008, 4:18 a.m.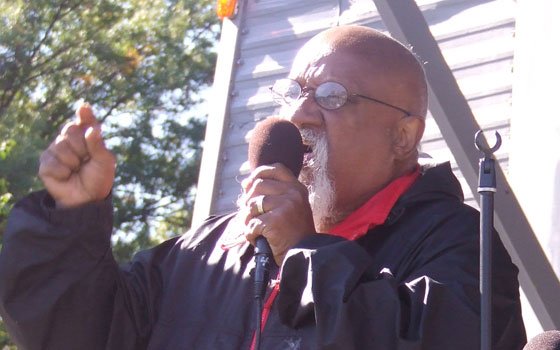 Several hundred activists gathered at Boston Common last Saturday to call for an end to the U.S.-led war in Iraq, but some rally participants said they were troubled by the lack of people of color in attendance.
"Traditionally, these movements are led by white progressives who are well-intentioned but don't know how to reach out to communities of color," said South End resident Dana Martinez, wearing a T-shirt reading "I Need A Bailout, Not A War!"
"One would think there would be masses of black and brown people charging up Tremont Street to be here, but they're not," said Martinez. "That shows we have a disconnect here."
Last Saturday marked the sixth anniversary of Congress' authorizing the invasion of Iraq. Amid growing enthusiasm nationwide to bring a new administration to the White House, anti-war organizers saw the anniversary as an opportunity to galvanize voters for the November elections, holding commemorative events like the rally on the Common in cities across the country.
The Associated Press reported last week that nearly 4,200 members of the U.S. military have died since the war began in March 2003. An estimated 1 million Iraqis have also died as a result of the conflict, according to survey work conducted by London-based Opinion Research Business.
The war's financial costs to the U.S. also continue to rise, now standing at more than $560 billion. Taxpayers in Boston are footing the bill for about $1.3 billion of the total, money that could provide one year of health care for more than 400,000 people or nearly 5,000 affordable housing units, according to the National Priorities Project, a Northampton-based federal spending watchdog group.
Robert Traynham of Roxbury was one of the few black or brown faces in last Saturday's Common crowd, holding a sign saying "Bailout the People, Not the Banks." He has been directly affected by the current financial downturn, as his home has gone into foreclosure.
A bus driver for Boston Public Schools, Traynham said he also worries about his shrinking 401(k) plan and the possibility of school closings in his community.
While some might see Congress' recent decision to inject hundreds of billions of dollars into flagging Wall Street institutions as a separate issue from U.S. military involvement in Iraq, Traynham does not.
"This bailout is going to fall back on the people, just like the war," he said. "More activists need to make a stronger effort to connect the economic woes in communities of color to the growing bill for the Iraq war."
For Cindy Diggs, the economic troubles and the Iraq war are both personal issues.
The founder of Peace Boston, an organization designed to mobilize youth to stop street violence in city neighborhoods through hip-hop, said that her organization has seen declining funds due to the high price of the war. She also has a sister in the service who returned from Iraq a year ago.
"When my sister was in Iraq, it was really hard on my family," Diggs said. "But now is the time to bring the money home and support community projects."