New polls, old theories
10/14/2008, 10:20 a.m.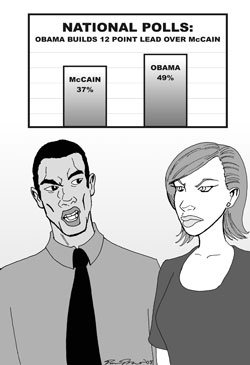 New polls, old theories
 "Have they calculated the race discount?"
As the political campaign presses on toward Election Day, some African Americans feel ill at ease. Indeed, Barack Obama's success has been exhilarating, but now supporters are anxious about whether the lead he has built in the polls accurately represents the way citizens will vote come Nov. 4.
There is a historical reason for this concern, as many black candidates for high office have seen polling advantages shrink on Election Day. This phenomenon — the idea that some voters would tell pollsters they are undecided or planning to vote for a black candidate, only to cast a ballot for a white opponent — is commonly called the "Bradley effect" or the "Wilder effect."
Tom Bradley, a popular African American mayor of Los Angeles, ran for governor of California in 1982. Although he had a big lead in the pre-election polls, he lost to Republican George Deukmejian by 5 points. In 1989, Democrat L. Douglas Wilder was elected governor of Virginia, becoming the first African American to win that post. But despite a 9-point lead in the polls before Election Day, Wilder won by less than 1 percent of the vote.
A recent AP-Yahoo News poll found that racial prejudice might cost Obama an estimated 6 percentage points in support. This race factor might not show up in a conventional poll; the September survey was conducted online and included different, subtler methods than are typically used.
Nonetheless, Obama supporters have every reason to maintain a positive attitude. The Bradley race was 26 years ago, and there have been substantial changes in racial attitudes since then. Here in Massachusetts, in 2006, Democrat Deval Patrick garnered 56 percent of the vote in a four-way race for governor. His closest opponent, Republican Kerry Healey, who is white, got only 35 percent of the vote. Also, the AP-Yahoo News poll was conducted before the collapse of the financial markets.
There is every reason for Barack Obama's supporters to be highly enthusiastic and motivated to work tirelessly for his election on Nov. 4. 
Stick with Dianne
Who is Sonia Chang-Díaz? Have you ever seen her? Has she ever done anything for the community? What is her strategy for serving the interests of Greater Roxbury if she is elected to fill Dianne Wilkerson's seat as the state senator representing the Second Suffolk District?
The issues affecting the interests of this district are complex. There will always be differences of opinion as to what course of action is most advantageous to the community and to the city. The senator must have the intelligence, understanding and courage to take bold stands on behalf of the district's constituents.
Dianne Wilkerson has done so over the 15 years of her tenure in office. When you stand up, you make enemies. Those in power are displeased if the senator's stand has inconvenienced them, and those in the community who have a differing opinion can also become hostile.