Roland Martin: From black press to network pundit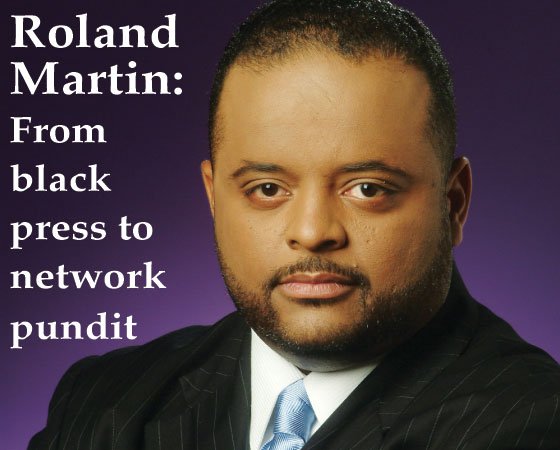 Born in Houston, Texas, on Nov. 14, 1968, Roland S. Martin is an award-winning journalist and a busy one, at that. He hosts a radio talk show, writes books and a nationally syndicated column, and provides commentary on the cable network TV One and as a regular contributor to a host of CNN programs, including "The Situation Room," "Anderson Cooper 360" and "Lou Dobbs Tonight."
Named one of the 150 Most Influential African Americans by Ebony magazine earlier this year, Martin was also honored with this year's NAACP Image Award for Best Interview for his tête-à-tête with Illinois Sen., and now President-elect, Barack Obama. On top of that, he recently received the National Association of Black Journalists' 2008 President's Award for his work in multiple media platforms.
All told, he has earned more than 20 professional awards for journalistic excellence, including a regional Edward R. Murrow Award from the Radio-Television News Directors Association.
An insightful and provocative analyst, Martin has made appearances on MSNBC, Fox, Court TV, Black Entertainment Television, the British Broadcasting Corp., National Public Radio and the "Tom Joyner Morning Show."
He is also a veteran of the black press, having served as the managing editor of both the Houston Defender and the Dallas Weekly, and as the executive editor and general manager of the Chicago Defender. He is married to the Rev. Jacquie Hood Martin. The couple resides in both Chicago and Dallas.
Martin recently took some time to speak with the Banner about making the jump from print to multiple media outlets, reacting to an Obama win and the importance of a journalist maintaining impartiality.
I see you're based in both Chicago and Dallas. That reminds me of how Tom Joyner once did a daily commute between both cities for his radio show.

Yeah, I believe that was when he was doing morning drive in Dallas and afternoon drive in Chicago.

I see you everywhere. How are you keeping up a busy schedule like that?

[Joyner]'s called the hardest-working man in radio, and some refer to me as the hardest-working multimedia journalist. I'm based in Chicago, I have speaking engagements all across the country, and I go to New York City two to three days a week.

Has your life changed a lot since you've become a TV personality?
Of course. The travel has been consistent. I've been recognized by a lot more folks for what I do and my number of speaking engagements has gone up dramatically. But you know what the deal is? I'm still me. That's the most important thing to me. When people see me, I'm going to be real and do exactly what I do. I'm not going to try to be different. I'm just going to be me.

Did you remain impartial as a journalist, or did you endorsed a candidate in this election?

As part of my CNN special on age, race and gender, I spoke about how I voted for [President George W.] Bush's father for president in 1988, [and] for Ann Richards and later George W. Bush for governor of Texas. And I announced that in this election, I was voting for Barack Obama.