Mass. voters flock to polling places for history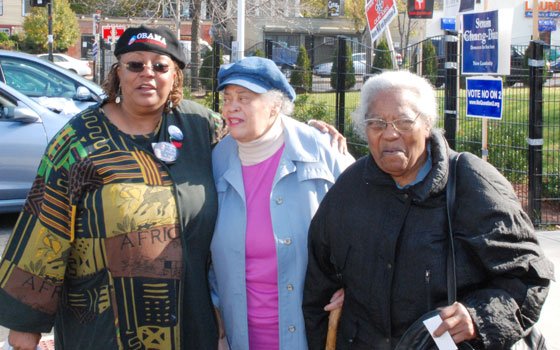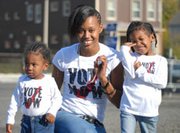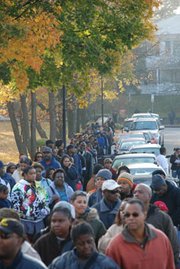 Millions of voters flocked to Massachusetts polling places on Tuesday, lining up before polls opened at 7 a.m. and staying even after they closed at 8 p.m. to cast ballots in arguably the most memorable presidential election in American history.
Pundits had long predicted heavy nationwide turnout for this year's election, expecting legions of newly registered voters to lead a citizenry energized by the contest between Democratic nominee Sen. Barack Obama of Illinois and his Republican counterpart, Sen. John McCain of Arizona.
In Massachusetts, the presence on the ballot of hotly contested measures concerning the elimination of the state income tax and the decriminalization of marijuana possession, as well as some highly publicized races in the state Legislature, only increased the level of interest.
Secretary of State William F. Galvin, the state's top election official, said he expected more than 3 million state residents to vote on Tuesday, which would have meant nearly 71 percent of eligible voters in the Commonwealth heading to the polls. Galvin told the Boston Globe that more than 4.2 million people registered by the Oct. 15 deadline to vote in Tuesday's election, an increase of 3 percent over the 2004 presidential contest.
Turnout was heavy in Boston, where more than 110,000 residents had voted as of noon — a pace well ahead of the 93,218 who had cast ballots by 12 p.m. in 2004. Boston has 381,013 registered voters, according to election officials.
Problems arose early across the Charles River in Cambridge. Shortly after 8 a.m., WBUR-FM reported that some voters there said they had registered to vote, but arrived at their polling place only to find that their names did not appear on the voter list. The voters were instead asked to fill out provisional ballots.
"We did have some incomplete voter registration lists going out," one volunteer working at the Cambridge Election Commission told the Cambridge Chronicle, "but they're being supplemented as we speak."
State election officials said later Tuesday that human error was behind the early morning problems in Cambridge, and that one of four voter lists had not been printed and was not available at the polls. The problem was later rectified, they said.
A coalition of voter protection organizations reported a number of other instances of voting problems encountered by Massachusetts residents. They said in a press release issued Tuesday morning that "the majority of problems seen today have been honest mistakes by undertrained poll workers and overwhelmed election officials, but they nevertheless threaten Massachusetts voters' right to fair elections and the integrity of the entire system."
The tone was decidedly more upbeat at the Sheraton Boston Hotel on Tuesday night, site of the Massachusetts Democratic Party's Coordinated Campaign Victory Party. The event — headlined by Sen. John Kerry, fresh off a victory in his contest against Republican opponent Jeff Beatty — drew more than 1,000 people, most of whom erupted into applause as numbers telling the tale of Obama's landslide victory appeared on the television screens.
Suffolk County Sheriff Andrea Cabral appreciated the significance of the night, of Obama's achievement and of the grassroots methods he used on the road to the White House.
"The face of politics has literally changed forever," she said. "No one will vote the same or appeal to voters the same again.