Curing breast cancer on Harvard grad's Agenda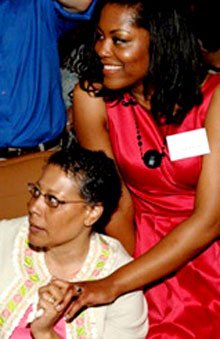 Breast cancer is one of the leading causes of death among women in the United States, but relatively few young people understand the disease's widespread impact. Marisa Renee Lee is working to change that.
Lee, a 25-year-old native of Poughkeepsie, N.Y., and Harvard University graduate, is the founder and president of The Pink Agenda (TPA), a nonprofit organization that has raised more than $100,000 for breast cancer research since its incorporation in April 2007.
While breast cancer is often viewed as an affliction affecting women over the age of 40, Lee targets young professionals — a group she said is often left out of such philanthropic work — through fundraisers like TPA's recent "Couture for a Cure" event held in the South End.
"I felt like [that] was a demographic that wasn't being tapped for fundraising or outreach, so I wanted The Pink Agenda to cater to it," said Lee.
Lee became interested in the cause in 2005 after learning that her mother, Lisa Mae Lee, had been diagnosed with stage 4 metastatic breast cancer.
Lee put her career aspirations on hold for a year and stayed at home to help her father, Samuel Lee, care for her mother, whose compromised immune system left her vulnerable to other diseases like tuberculosis and pneumonia.
On Feb. 28, 2008, Lisa Mae Lee died. The loss motivated Marisa Renee Lee to take action. Initially, Lee asked that in lieu of flowers, donations be made in her mother's memory to "Saving Second Base," a breast cancer fundraiser she had been inspired to start the previous year.
"I watched a particularly dramatic episode of 'Grey's Anatomy,' the one where George's father is diagnosed with cancer," she recalled. "That, and one too many cocktails, made me realize that it was my responsibility to do something."
Lee gathered a group of college friends to throw a party on behalf of "Saving Second Base." The event drew a crowd of young professionals eager not only to support the cause, but also to help Lee expand it.
"I suddenly had a bunch of e-mail [addresses] and phone numbers of people who wanted to help organize the next 'Saving Second Base' function," Lee said. "We went from a party to a group overnight."
After the event, Lee sent the donations collected at the function to two leading outreach organizations, the Breast Cancer Research Fund and Susan G. Komen for the Cure. The move opened the door to a network of fundraisers that were ready to make large donations to Lee's efforts — which, she said, presented "a small problem."
"People can't write checks made out to me for breast cancer research," she explained. "So we had to form an officially recognized organization that could receive those checks."
Lee went to work drafting articles of organization and bylaws. Within 72 hours, Lee had filed for exemption status with the state of New York and "Saving Second Base" was born.  
According to Lee, the group changed its name to The Pink Agenda to "reach a more mature audience and because the term 'second base' is going out of style," but noted the organization has been "much more successful" since the switch.