Biker 'Divas' raise funds, not hell, on cycle run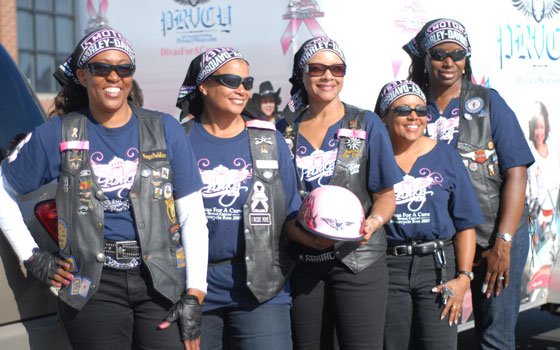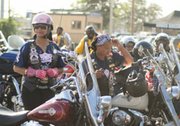 Jan Emanuel-Costley (left) and Elaine Thomas park their motorcycles in the parking lot of Boston Harley-Davidson in Everett. Their stop, a fundraising event for their nonprofit organization Divas for a Cure, is intended to promote breast cancer awareness in Greater Boston. The riders expect to raise $100,000 for research during their third annual cross-country bike trip, wrapping up Aug. 4. (Daniela Caride photo)
The noise of heavy traffic on Revere Beach Parkway in Everett suddenly gave way to the rumble and roar of dozens of motorcycles. Five women rode their bikes into the Boston Harley-Davidson parking lot, surrounded by a group of bikers clad in black and yellow jackets with "BUFFALO SOLDIERS" emblazoned on the backs. The lot quickly filled with leather, chains and attitude.
Onlookers might have thought the whole scene rolled straight out of "Easy Rider" if it weren't for one thing: Instead of chasing the bikers, Boston and Everett police escorted them.
Flanked by boys in blue and men in black, the five "Divas for a Cure" made a stop in Greater Boston last Friday. The parking lot visit was part of a 6,300-mile road trip to promote their cause — finding a cure for breast cancer.
"We are simply ordinary women trying to do extraordinary things to impact the lives of women in our community," says Jan Emanuel-Costley, "and change the image of women in motorcycling."
Emanuel-Costley, a.k.a. "Sunny The Diva," is the founder and president of Divas for a Cure. The nonprofit organization is dedicated to promoting early detection, education and screenings, as well as supporting continued research. The motorcycle run is the organization's key fundraiser.
This year's third annual trip started when the divas departed from Atlanta on July 16, hitting the road toward North Carolina. The trip took them to Georgia, Kentucky, Ohio, Wisconsin and Michigan, with a stop in Canada, before arriving in Massachusetts. Following their Everett stop, the riders set out for New Jersey and to the National Bikers Roundup in Greensburg, Pa. They are scheduled to return to Atlanta on Aug. 4.
Throughout the motorcycle run, the divas stop at Harley Davidson dealerships to host events where people can make donations or register to ride with the group to the next city. At the events, Emanuel-Costley says, the women raise cancer awareness by advising participants to get regular screenings, sharing their personal experiences with the illness and asking for contributions for breast cancer research.
Emanuel-Costley also matches women diagnosed with breast cancer to volunteers who have gone through the battle to bring these women emotional support.
"Our mission is simple," says Emanuel-Costley. "Breast cancer awareness and early detection are key to survival. I am living proof."