Hub clothing designer reaching for the Sky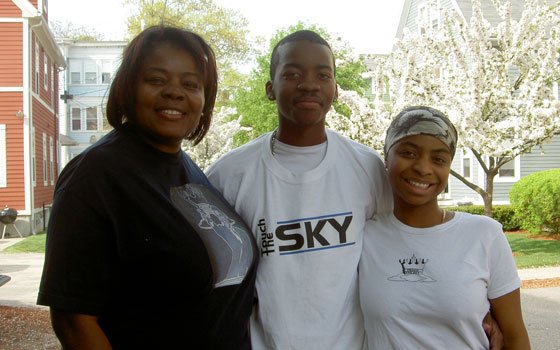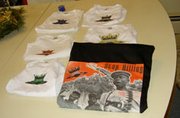 Tired of negative images in the clothes their friends wore, teenagers Timothy Lassiter (center) and Your'Majesty Gilmore (right) decided to launch their own clothing company. Lassiter designs Touch the Sky's T-shirts and baby clothing. Gilmore brainstorms new product ideas. Jacqueline Lassiter, Timothy's mother (left), registered the company. (Margarita Persico photo)
"I think like a millionaire," says Timothy Lassiter, founder of Touch the Sky. He is so serious about his clothing company that he got its name tattooed on his left arm. (Margarita Persico photos)
It's often said that idle hands are the devil's workshop. But for 17-year-old Timothy Lassiter, a little free time and some ingenuity helped spark his own business.
A student at Roxbury's John D. O'Bryant School of Mathematics and Science in Roxbury, Lassiter said he and his friends had a problem with what they saw their peers wearing. They didn't like the negative images in the clothes.
"We were tired of seeing skulls and crossbones," said Lassiter, who was born in Edenton, N.C.
Lassiter said he wanted to see positive messages, ones that were recognizable to all communities.
"So we thought, 'Who better to change it than us?'" he said.
After numerous discussions with his longtime friend Your'Majesty Gilmore, 17, of Chelsea, the pair decided to launch their own clothing company, Touch The Sky.
The two work on the business daily, marketing the brand online, handling management and accounting responsibilities and maintaining their Web site. Lassiter is the artist, drawing and designing their lines of shirts and baby clothing. Gilmore brainstorms design concepts, new product ideas, and methods for building the business. It's little wonder she is headed to Harvard on a full scholarship and plans to major in business administration.
At first, Gilmore said, she thought Lassiter was just kidding around. Even though she went along with it, investing time and money, she could not believe they were starting a real company until the first batch of shirts arrived.
But Lassiter knew all along — he even got the company's name tattooed on his left arm. Part of his assuredness came from the advice he received from his mother.
When Jacqueline A. Lassiter, 46, learned that her son had his eyes on going into business, she told him that he needed to "put it on paper" — to map out the company's purpose, goals and the logistics of how to achieve them.
He wasted no time, and with the help of Janice Williams, who taught student entrepreneurship classes at O'Bryant as part of a national program, he wrote his business plan and presented it to his mother.
Satisfied with the plan, she said, "there was nothing left to do but support him." During a recent interview with the Banner, Jacqueline Lassiter proudly wore one of her son's designs, a T-shirt bearing the image of Democratic presidential candidate Barack Obama.
"I'm not fooling around," said the young Lassiter. "… Fooling around won't leave a legacy when you are gone."