Comeback trail brings tennis pro Stevenson to Dorchester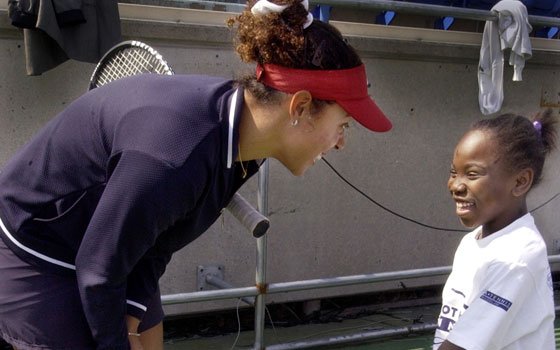 Some may know Alexandra Stevenson as the daughter of basketball legend Julius Erving.
Others might remember the tennis player's run during the summer of 1999 as the 18-year-old wonder who made it through the Wimbledon women's draw all the way to the vaunted tournament's semifinals in her first appearance there.
They might also clump her in that unfortunate group of world-class athletes stopped by an injury — in Stevenson's case, shoulder problems — just as they hit their prime.
Those are the facts that define Stevenson to the masses; if someone knows who she is, chances are it's for one of those three reasons, and they overshadow any other information about what her life entails.
But Alexandra Stevenson knows who she is, whether other people do or not.
The 6-foot-3-inch Stevenson, who is biracial, looks little like the "California girl" often seen crisscrossing courts in the major tennis events showcased on network television, and she knows it. Stevenson says that the media flocks to the skinny blonde girls in short skirts and showers them with coverage because, well, sex sells.
"I call it the Marilyn Monroe complex," Stevenson told the Banner in a recent interview. "Except she wasn't skinny."