Arts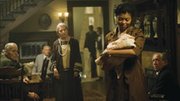 When it comes to her chosen career, Taraji P. Henson knows what she likes. In a word: everything.
"I love everything about the craft," the 38-year-old actress explained during a recent stop in Boston to promote her latest project, "The Curious Case of Benjamin Button."
The David Fincher-directed film, which opens Christmas Day, chronicles the life of a man named Benjamin, played by Brad Pitt, who is born in his 80s and ages in reverse. Henson's character, Queenie, adopts the old, wrinkled baby after his mother dies in childbirth. Benjamin's biological father abandons him because of the way he looks.
Adapted from F. Scott Fitzgerald's 1922 short story of the same name, the film takes place in New Orleans and spans from 1918 into the 21st century, exploring the emotional depths of life and death, and the nuances in between. Building on its considerable pre-release buzz, "Button" has already earned five Golden Globe nominations, including a nod for best picture.
For Henson, this project came after she had suffered her own personal loss.
"I lost my dad a year before we started," she said. "It was almost like I had to experience this to really feel it. I was able to bring it to a whole other level."
Henson was targeted for the part after casting director Laray Mayfield saw her performance as Shug, a pregnant prostitute with a singer's voice, in 2005's critically acclaimed "Hustle and Flow." The actress admitted she was intrigued by the unconventional story behind "Button," as well as the character of Queenie.
"She is the embodiment of unconditional love," Henson said. "To be able to take in a child that's not yours, at a time when racism is the norm, and he's white and has been born under these unusual circumstances — [but] she is able to look past all that and love him."
Attuning herself to the character's maternal instinct came naturally for Henson, who has a 14-year-old son of her own. The chance to act alongside big-screen megastar Pitt didn't hurt either.
"He is such a good, down-to-earth guy," she said.
But even though "Button" finds her sharing the screen with stars like Pitt and Cate Blanchett, and past roles have put her alongside the likes of Don Cheadle, Ben Affleck and Mark Wahlberg, Henson said she remains unimpressed with the idea of Hollywood celebrity. For her, the journey to Los Angeles and the silver screen included years of hard work, perseverance, passion and faith.
Henson still remembers feeling the sting of rejection when she began to pursue her dream. Born and raised in Washington, D.C., she decided to apply to the Duke Ellington School of the Arts in the 10th grade. She was denied admission, which devastated her and led her to put those dreams away.
After finishing at another high school, she attended North Carolina Agricultural and Technical State University, where she thought she wanted to be an electrical engineer.
"When I failed pre-calculus, I knew I wasn't going to go in that direction," she said with a smile.