Arts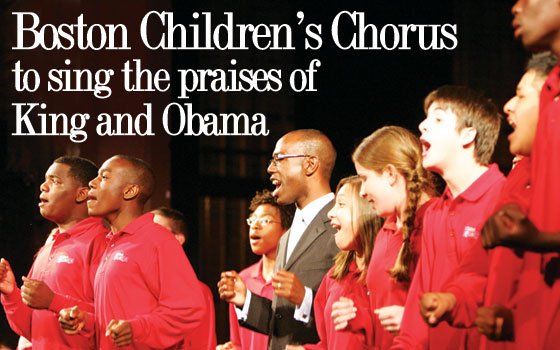 The Boston Children's Chorus (BCC) has a lot to celebrate this holiday season.
For the first time ever, the group's annual hour-long Martin Luther King Jr. Day concert will be broadcast live nationally from Jordan Hall at the New England Conservatory.
According to BCC Artistic Director Anthony Trecek-King, the Jan. 19, 2009 concert will be the first of its kind to be nationally syndicated in the U.S.
Mia Ferguson, 15, a member of BCC's elite Premier Chorus, hopes the upcoming sixth annual concert will unite viewers across the country.
"We've seen such a divide in the country with the election and I think it's really incredible that this concept that we have of making change through music will be seen across the country," Ferguson said. "It's important for people to see that everyone can feel the same message and get the sense that a change can be made, and that we can all work together to make something beautiful."
This year's event is also unique because it will take place the day before President-elect Barack Obama's inauguration on Jan. 20, which Trecek-King feels will bring a special spirit to the show.
"This is what Dr. King was fighting for. Obama's presidency is a symbol for equality," said Trecek-King, who has been with the choir for more than three years. "I think for a lot of people, there's this feeling of Dr. King's dream coming together. You can celebrate the president and you can celebrate Dr. King; it's all linked."
The event, hosted by special guest Louis Gossett Jr., will feature two BCC choirs, the Young Men's Ensemble and the Premier Chorus, as well as performances from the Young People's Chorus of New York City and dancers from the Boston Arts Academy.
In keeping with the dual celebration of Martin Luther King Jr. Day and the inauguration, one of the songs the Premier Chorus will perform is "Change We Can Believe In," which was written for the Obama campaign.
Premier Chorus member Xana Turner-Owens, 16, says she is looking forward to celebrating King's legacy, as well as the "excitement and possibilities that the election represents."
"For me, the election has sparked a new excitement about this time and what youth in particular are capable of," she said.
The BCC aims to spark similar sentiments in others through its concert. The annual event is intended not only to reinforce the chorus' mission of social change by honoring the slain civil rights icon, but also to show its singers and their families that they too can be an example of diversity and tolerance — as well as a major force of change.
"It's our mission to bring people from different backgrounds together," Trecek-King said. "Our choir has people who live below the poverty line and people whose families make [hundreds of] thousands of dollars a year and … they really do become friends and hang out on the weekends. And I think that's really special."
The event will also commemorate the chorus' fifth season. Over the years, the BCC has grown from 20 kids who met to sing together into the mission-based group it is today, with nine choirs of children from grades 2 to 12. Members hail from the city and from suburbs like Harvard, Oxford, Brockton, Randolph and Weston.
Turner-Owens, who has been with the chorus since its founding in 2003, says this is the Premier Chorus' year to shine.
"We've been doing this concert since the choir started and it's been really cool to watch us grow," she said. "We're finally taking ownership of MLK Day. I'm looking forward to seeing the final outcome."
Paul Jordan Talbot, 17, a Men's Ensemble member and one of the few male members of the Premier Choir, says BCC helps connect people from different backgrounds not only within the choir but also through their concerts.