Nakisha L. Skinner
12/9/2008, 9:02 a.m.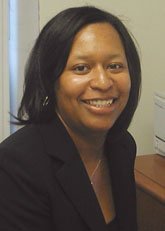 Nakisha L. Skinner 
Nakisha L. Skinner became the new general counsel for the Boston Public Health Commission (BPHC) this fall, overseeing the commission's staff attorneys and serving as the top lawyer for all legal matters involving the city's public health department.
"Nakisha brings to the position solid legal experience, an in-depth knowledge of the commission's programs and services, and a deep commitment to public health," said Dr. Barbara Ferrer, the agency's executive director. "We're thrilled with the choice we've made."
Skinner joined the BPHC in 1999 as a paralegal in the General Counsel's Office. She was promoted to assistant general counsel in 2003, and handled a broad portfolio that included real estate, contracts and civil rights cases.
She is a 2003 graduate of Suffolk University Law School, and also holds a Bachelor of Science degree in sociology/criminology and law from Suffolk University.
Skinner is a member of a number of professional organizations, including the Boston Bar Association, the Massachusetts Black Lawyers Association, the Massachusetts Bar Association, the Women's Bar Association and the American Bar Association, and is an alumna of the Boston Center for Community and Justice's leadership development programs, according to her profile on the social networking site LinkedIn.
Skinner lives in Roslindale with her husband, Robert Skinner Sr., and their two young children, Robert Jr. and Raiah. She succeeded John M. Townsend, who left the general counsel position in which he served for 11 years, to become the BPHC's director of administration and finance.