Arts
8/27/2008, 6:32 a.m.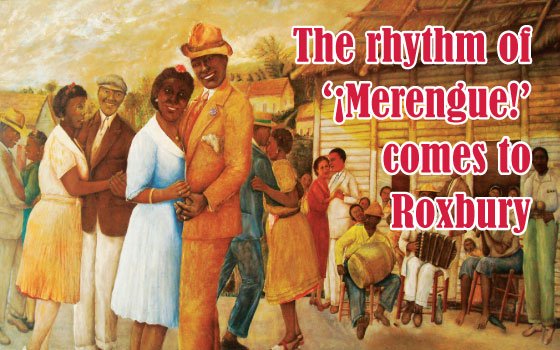 Red Sox players Julio Lugo (second from left) and David Ortiz (center) pose for a photo at the "¡Merengue! Visual Rhythms/Ritmos Visuales" exhibition opening, at the NCAAA museum. (Frederick Ellis Dashiell Jr. photo)
The traveling exhibit "¡Merengue! Visual Rhythms/Ritmos Visuales" at the Museum of the National Center of Afro-American Artists is featuring works by 28 Dominican artists, among them Alfredo Senior's "La Fiesta del Centenario" (top), José Vela Zanetti's "El Merengue" (below) and Chito Zouain's "Acordeonista" (above). (Images courtesy of Camilo Alvarez)
Dominican José Morillo's "Viva el Merengue" is one of the paintings being exhibited at the NCAAA museum. (Image courtesy of Camilo Alvarez)
The Museum of the National Center of Afro-American Artists (NCAAA) is giving Boston residents a little bit of Latin flavor.

The NCAAA museum is now hosting "¡Merengue! Visual Rhythms/Ritmos Visuales," a traveling exhibit featuring more than 40 works by 28 historical and contemporary artists from the Dominican Republic. The run at the Walnut Avenue site continues through Nov. 23 and is the exhibition's only New England stop.
At the exhibition's opening event earlier this month, members of the organizing committee hailed its cultural significance for residents that emigrated from the Caribbean nation to the U.S., as well as those of Dominican descent who were born here.
"It's important for Dominican descendants to have encounters with art from the places they left," said Hector Piña, owner of the Roxbury restaurant Merengue and a member of the Boston Merengue Committee.
Boston Red Sox players and Dominican Republic natives David Ortiz and Julio Lugo toured the exhibition during the opening. It "does a great job of displaying Dominican culture," Ortiz said.
The exhibit was organized by the Centro Cultural Eduardo León Jimenes in the Dominican Republic and produced by the Washington, D.C.-based touring group International Arts and Artists. Previously presented in both Washington and New York, "¡Merengue!" includes paintings, sculptures, works on paper and video installations that feature merengue music and dance as central themes.
It also demonstrates the importance of merengue music to the Dominican Republic through an illustrated timeline documenting key moments in the republic's development. In the process, the exhibit shows the intersection of merengue as not only a musical style and dance form, but as a critical element in and the nation's sociopolitical history.
"The exhibit shows merengue through the years, with paintings from the '40s and '50s all the way up to modern interpretations of the dance," said exhibit co-curator Camilo Alvarez.