Juliette Mayers
8/26/2008, 6:04 a.m.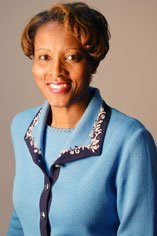 Juliette Mayers
Juliette Mayers was named chair of the 48-member volunteer Board of Directors of Action for Boston Community Development Inc. (ABCD), Boston's antipoverty agency, at the annual meeting of the agency's corporation earlier this summer.
Mayers, the executive director of multicultural marketing at Blue Cross Blue Shield of Massachusetts (BCBSMA), represents the Boston Chamber of Commerce on the board.
Mayers' "significant background in management, marketing and health care, combined with her tireless advocacy and commitment to the community we serve and the ABCD mission of overcoming poverty, make her extremely valuable to our organization," said ABCD President/CEO Robert M. Coard.
A seasoned executive with a diverse background in strategic planning, marketing, finance and diversity leadership, Mayers' experience spans 20 years with a number of leading organizations. As BCBSMA's executive director of multicultural marketing, she is a member of the organization's Senior Leadership Council and develops and shapes strategies to ensure sustained market leadership for Massachusetts' largest health insurer.
Mayers holds a bachelor's degree in business administration from Northeastern University and a master's degree in business administration from Simmons School of Management.
Mayers has served in leadership positions on the ABCD Board of Directors for nine years, both as board vice chair and chairperson of the Equal Employment Opportunity Committee.
"I am honored to be elected chair of the ABCD Board of Directors," said Mayers. "In my years on the ABCD Board and in my work in the community, I've observed firsthand this agency's important contributions to our city, state and nation. It is a great privilege to take my place in the leadership of this remarkable organization that, throughout its 46-year history, has provided the low-income and working people of Boston with true opportunities to succeed in life. ABCD stands as a model for 1,100 such programs throughout the country, and I am proud to be part of it."
Mayers succeeds Kathleen Flynn, who represents South Boston and served as board chair for two years.