How a personal tragedy inspired a unique creative legacy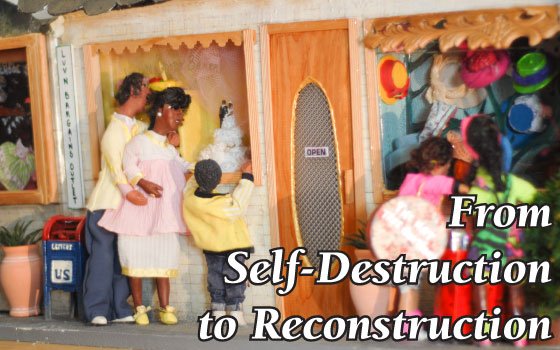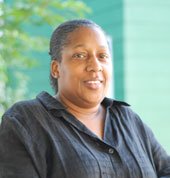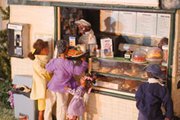 How a personal tragedy inspired a unique creative legacy
Nearly 20 years ago, Deborah Cornin was the victim of a horrific home invasion, and rape. One thing set her off on the road to recovery: Making dollhouses depicting scenes of African American life, like the one above. (Daniela Caride photos)
Though Dorchester artist Deborah Cornin draws inspiration for her dollhouse scenes from her own youth, some who view her pieces find themselves transported back to their pasts. "It was just like [Cornin] was looking through my eyes when she created these things," said Patricia Morehead, a 59-year-old retired police officer from Illinois. (Daniela Caride photo)
Sometimes tragedy has to strike in order to make us do greater things, says Deborah Cornin.
It struck her at 3 a.m. one night in 1989, when a man scaled three porches and broke into her Dorchester home through the roof. The intruder covered Cornin's head with a sheet, beat her and raped her. She never got to see his face.
"I was a nice church girl," she remembers. "But life happens and it hurts."
Her life came to a halt. Leaving the house only to go to work and to church, Cornin sunk into depression and prayed to God every day for help.
"I kept thinking, 'I can't do one more thing,'" recalls Cornin. "So I stopped answering the phone, I stopped belonging to things. I just stopped."
Eventually, the discovery of a unique gift got her moving again: She had the talent for making dollhouses depicting scenes of African American life.
It may sound like an odd jumpstart to some. But it got Cornin to put one foot in front of the other, and as she recalls, that was all that mattered.
"Like you need water, I needed to do this," she says. "God gave me certain words and He said to me, 'I'm gonna show you how to move from dysfunctional to functional, from self-destruction to reconstruction, from grief to relief.' And that's what this represents."
Now 52 years old, Cornin has built 28 such dollhouse scenes. She exhibited her work for the first time at Harambee: The 2008 Black Doll Collectors Convention, held in Mansfield in May. The convention confirmed that in addition to her work's personal value, the scenes also had financial value — Cornin's pieces were appraised with an initial bid of $10,000 each.
But only God knows the final price. Cornin says she is determined not to sell them.