Obama makes bid in seven longtime Republican states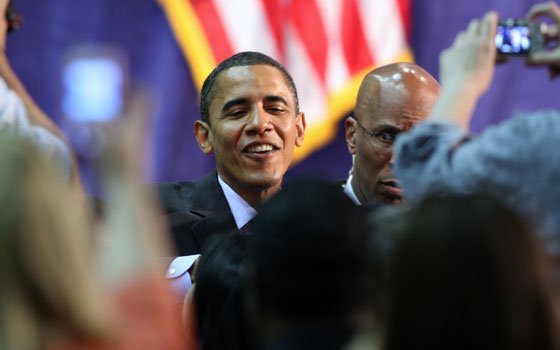 WASHINGTON — Alaska is young. Georgia, North Carolina and Virginia have growing populations and many black voters. Montana has seen recent Democratic inroads, and North Dakota has sent only Democrats to Congress since 1986. Indiana borders Barack Obama's home state.
The Democratic presidential candidate is putting money and manpower into all seven of these states — at levels unmatched by Republican rival John McCain.
For decades, these states have almost exclusively voted for Republican presidential candidates. Now, thanks in part to demographic and political shifts, they are emerging as new battlegrounds.
"We have the organizational ability and the financial ability to compete there," Obama campaign manager David Plouffe said recently. "There is not a head fake among them."
Undeterred, senior McCain strategist Steve Schmidt said: "We feel very confident about holding these states."
In the seven historically GOP bastions, Obama has run five weeks worth of TV ads and dispatched dozens of workers to sign up unregistered voters that his campaign believes can be persuaded to support the Illinois senator, if courted aggressively.
Among their targets are blacks and young people, two constituencies that favor Obama but historically have been unreliable voters.
McCain is largely absent from most of these states, trusting for now that right-leaning roots will prevail.
Unlike McCain, Obama had a presence in all seven during the protracted Democratic primaries, and that could benefit him.
But Republicans — and even some skeptical Democrats — claim Obama simply is trying to lure McCain into spending money defending GOP turf so he has less to use elsewhere.
Indeed, cash flow is a major factor; Obama expects to be able to afford to compete most anywhere, while McCain must be more careful with his money because he is accepting public financing — and the spending limits that come with it.
Of the cluster, Virginia is most likely to go Democratic, so it's the one where McCain is competing in earnest.
Obama is advertising statewide and has opened several offices. Putting Virginia Gov. Tim Kaine on the ticket could help.
McCain's headquarters is in northern Virginia, and he has a full paid Virginia campaign staff. So far, he's only on the air in the Washington, D.C., media market that serves the burgeoning Virginia suburbs.
Democrats say the growing numbers of young left-leaning professionals in the north and the state's large percentage of blacks — one in five — as well as untapped pools of potential voters, make Virginia a ripe target for them. More than 4 million people are eligible to vote but roughly a third are not registered, including a half million blacks and several hundred thousand people age 18-24.