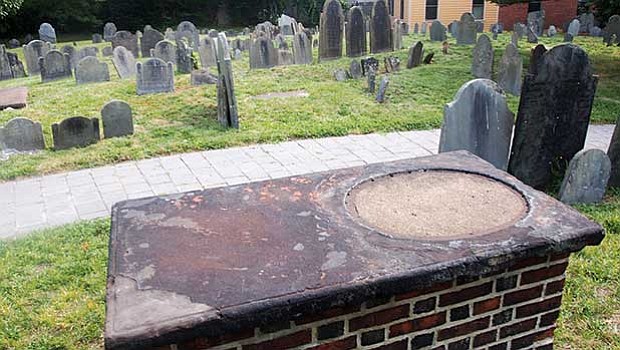 The crypt in which eight members of the Dudley family's remains are entombed in the Eliot Burying Ground. Legend has it that the pewter memorial that once graced the top was melted down to make bullets during the Revolutionary War.
Stories this photo appears in:
Now African Americans are called upon to decide whether to retain traditions with colonial roots or to replace them with remote African references.

Efforts underway to change historic names
Dorchester activist Kevin Peterson wants Boston to remove Peter Faneuil's name from the iconic building he built for the city in 1742. Roxbury activist Sadiki Kambon is calling for the city to strike the name "Dudley" from Roxbury's commercial center and replace it with the name "Nubian Square."